JCB said it would begin selling its first electric digger at the end of this year as an increasing number of heavy equipment makers look to cut their dependence on fossil-fuel-powered equipment in response to cities cracking down with tougher regulations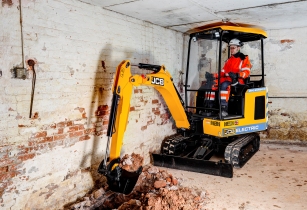 JCB has been developing the electric mini excavator in secret at the company's HQ. (Image source: JCB)
?...with urbanisation, machines are operating more closely to people as well as digging underground, indoors, near hospitals and in food production environments. As a result, there is a new zero emissions sector emerging and it?s emerging very quickly,? company chairman Lord Bamford, said.
The Rocester-based company said it had been developing the 1.9-ton mini excavator -known as the 19C-1 E-Tec- in secret under the leadership of Bamford. The excavator has an electric motor and three advanced lithium-ion battery packs, to deliver a full energy capacity of 15kWh.
JCB said that the equipment will be emission free and the quietest excavator in the JCB range, allowing it to work in urban streets, around hospitals and close to schools without disturbing people.
Bamford also expects ?typical JCB machines? to be ?pretty close to zero emissions? by next year.
Swedish automaker Volvo and industrial giant Caterpillar are other players which have made forays into electric heavy equipment.
Volvo launched a prototype of an electric excavator in May last year, while Caterpillar said it had developed an electric excavator in January.