Liftomatic Material Handling, Inc, an industry leading material handling equipment manufacturer, has introduced FTA drum handling units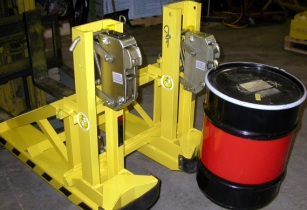 The FTA drum handling units are designed for loading, unloading, palletising and storage of steel drums. (Image source: Liftomatic)
The FTA drum handling units are designed for loading, unloading, palletising and storage of steel drums in about any size or configuration including 30 gallon, 55 gallon and 85 gallon.
The attachment fits directly onto the forks of any standard lift truck with Liftomatic?s ?Parrot- Beak?? clamping system and cushioned belt-cradles. The FTA aims to protect the drums during transport, provide a sure-grip and handle the drums safely to and from any location.
Available in one, two, three or four drum models, the FTA focuses on improving productivity and safety in all steel drum handling routines.
Liftomatic Material Handling, Inc is one of the global leaders in the design and manufacture of drum handling equipment. Headquartered in Buffalo Grove, Illinois, Liftomatic maintains manufacturing, engineering and sales facilities around the globe. Currently, the company sells products in more than 40 countries and about 400 of the Fortune 500 companies.