Andrew Croft, editor of Technical Review Middle East?s sister publication African Review, argues that, while technology can help manage operations and operational costs, human practices should not be discounted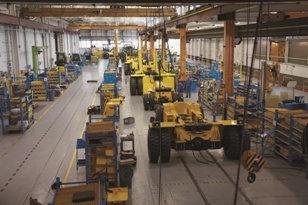 Managed well, waste management machines can support productivity and profitability. (Image source: Hyster)
Machine systems for waste management include undercarriage systems, ground engaging tools, power train systems and hydraulic systems.
Managed well, these machines can support efforts aimed at lowering owning and operating costs on mobile plant, and maintaining the ability to be productive.
It is important, in managing waste operations, to focus on theory, practice, and feedback. Operators and engineers know an operator's machines best, so the inclusion of such staff in the systems' management is key.
Input from operators, and engagement with operators to deliver better practice, can translate not only into reduced downtime and maintenance costs, but also better productivity, longer component life, and lower fuel costs. A 10 per cent fuel reduction, which is achievable, can translate into your currency?s equivalent of tens of thousands of US dollars in cost savings.
The importance of condition monitoring
The cost of pre-emptive maintenance may be but a fraction of costs incurred on repairing a machine that has failed at short notice.
Proactive conditioning monitoring, as exemplified by Finsight, can distinguish a machine's condition from preventable and unpreventable state of failure. And residual values will be higher, too, as they reflect GET and undercarriage expenditure, fuel burn, and component life.
Key maintenance practices, then, include condition monitoring and record keeping, allied to operator best practice and consultative support.
An operator can save you a fortune or cost you a fortune, and proactive use of technology for condition monitoring???and proactive maintenance can place the emphasis on best practices for saving costs.