Renault Trucks has begun assembling the new C and K range models at its recently launched state-of-the-art facility of Arabian Vehicles & Trucks Industry Co. Ltd. (AVI) situated in Saudi Arabia?s King Abdullah Economic City (KAEC)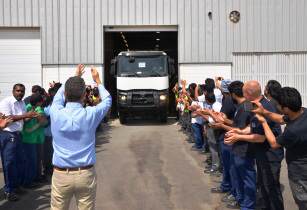 First Saudi Arabia-built Renault truck rolls out of AVI. (Image source: Renault Trucks)
AVI is a joint venture between Volvo Trucks Corporation, which owns Renault Trucks, and Zahid Tractor & ?Heavy Machinery Co. Ltd.
Implementing a new concept for an efficient and cost-effective truck assembly, the AVI facility is one of the first in the world to produce both Volvo and Renault trucks on the same assembly line.
The first Saudi Arabia-built Renault Trucks have been assembled through the collaboration of a number of Renault-trained technicians, engineers, quality and logistics personnel from Bourg-en-bresse and a highly trained local AVI team .
Primarly servicing the growing demands of the Kingdom?s market, the facility will be producing the full line up from Renault Trucks? new ranges ? C Range for construction and long haul and the robust K Range for heavy construction.
Renault Trucks Middle East president Lars-Erik Forsbergh said, ?Our facility in KAEC further cements our commitment of providing unrivalled transport solutions throughout the Middle East. Through the support of our local importer Zahid Tractor and AVI we hope to continue to service the demanding construction, infrastructure and transport sectors in the region and set new standards in the region?s trucking industry.
?We are delighted to see the first of many Saudi Arabia-built Renault Trucks roll off our assembly line. Although the facility layout derives from our group?s lean manufacturing production system, this milestone could not have been achieved without the efforts of our highly-trained Saudi Arabian workforce.?
AVI?s facility in KAEC was designed by a project team from the Volvo Group Truck Operations (GTO), comprised of engineers and process owners from brands under the group?s umbrella. The new air-conditioned assembly facility in KAEC has been ergonomically designed.
Tooling, fixtures, equipment, driven line, crane structures, special racking on the assembly line, proven tightening tools and different lifting and moving fixtures help the facility to run efficiently and seamlessly at optimum performance, producing up to 4,000 trucks annually for both brands combined.
AVI?s knock down (KD) assembly facility is one of the first and biggest completed, fully functional projects in KAEC.