The versatile and economical Cat EP10-35(L)CB range is particularly popular in Middle East and Africa and might just be the right partner for you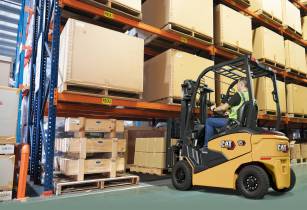 This energy-efficient range is equipped with a host of ergonomic and safety features which allow drivers to work confidently, quickly and productively. (Image source: CAT Lift Trucks)
A key benefit for customers who look at their operations in the long run is to consider transitioning to battery powered forklifts. While saving in the total cost of operation, achieved largely through lower maintenance needs and easier servicing, electric forklifts will raise your productivity and profits.
The amount of advantage you gain from moving to electric lift trucks will depend on the quality of the trucks you choose. That is why it?s important to find the right truck. With the EP-CB range you have a myriad of advantages for your operations.
By making drivers more productive and reducing the total cost of ownership, it increases business profitability. Energy consumption is lowered ? and battery runtime from each charge extended ? through the ECO performance mode, efficient regenerative braking and an auto power off feature. Repair and maintenance bills are minimised by the trucks? robust design and construction, while an easy-to-read liquid crystal display (LCD) encourages correct usage and servicing.
Within this range, the EP25CB model with 2.5 tonnes capacity and a 48V battery, is especially successful as it can do the job where others require a more expensive 80V battery.
This energy-efficient range is equipped with a host of ergonomic and safety features which allow drivers to work confidently, quickly and productively. Manoeuvring is fast, precise and safe, with advanced electric hydraulic steering.
Customers can choose from nine models that can be set to work from light, medium and heavy warehouse duties to outdoor tasks.
The EP-CB range offers optional features for more specialised applications and extremely harsh environments. For example, there are separate cold store modification options for temperatures down to -35 and -55?C. Trucks can also rustproofed, dustproofed and fitted with roofs, windows and vinyl cabins.
Next to the EP-CB-range, Cat Lift Trucks offers a total of other five electric counterbalance ranges, along with a comprehensive warehouse truck line-up and unbeatable sales and aftersales product support.
Building on decades of experience in the electric forklifts, both Cat Lift Trucks and its dealer network in the Middle East are well prepared to assist customers who are ready to make the change to electric forklifts.
If you are interested in knowing moe about electric trucks, check https://www.catlifttruck.com/ame/blog/product-spotlight-electric-forklift-trucks