Topcon has unveiled HiPer VR, the latest addition to its HiPer series of integrated receivers, aiming to provide a versatile solution with the most advanced GNSS technology available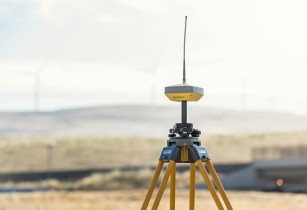 Topcon?s HiPer VR. (Image source: Topcon)
?The HiPer VR is packed with the most powerful GNSS technology in a housing, which is built to withstand the harshest field environments,? said Alok Srivastava, director of GNSS product management.
?The Topcon advanced GNSS chipset with Universal Tracking Channels technology allows the HiPer VR to automatically track signals from all available constellations, including GPS, GLONASS, Galileo, Beidou, IRNSS, QZSS and SBAS, now and into the future, ? he added.
Topcon integrated levelling technology
The HiPer VR features Topcon integrated levelling technology (TILT) designed to compensate the inaccurate field measurements out of plumb by as much as 15 degrees.
?TILT incorporates a revolutionary nine-axis inertial measurement unit (IMU) and an ultra-compact three-axis eCompass, thus allowing operators to quickly and confidently take field measurements even in scenarios where getting the receiver into an exact vertical setup is difficult or not possible,? explained Srivastava.
The HiPer VR is designed as a complete and versatile solution for a variety of applications including static or kinematic GNSS post-processed surveys, a network RTK option when paired with a field computer equipped with a cellular modem, a radio or LongLink job site RTK rover, as well as the GNSS component of the Hybrid Positioning and Millimeter GPS workflows.
The new receiver also features the IP67 certification for protection against harsh environmental conditions such as wind and rain, besides an integrated 400 MHz UHF radio modem and license-free 900 MHz FH915 protocol radio modem.
For more information, contact Shaheed Rahman on shaheed@topcongulf.com

Please visit www.topconpositioningmea.com