Sandvik, the global engineering company, has selected Volvo Penta?s eight-litre engines to power its new series of Ranger DXi drill rigs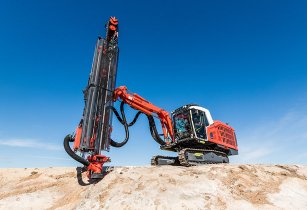 Volvo Penta?s eight-litre engines aim to enhance operational output with high level of automation. (Image source: Volvo Penta)
Sandvik?s Ranger DX900i and DX800i surface drilling rigs have been designed with an aim to provide operational output with high levels of automation. The DXi models have a 290-degree rotating superstructure which provides a 55 sq m drilling coverage area, a new rock drill, a new silent ?iCab? cabin and the ability for wireless transfer of data.
?Our new Ranger DXi models have been created to provide an intelligent method of working that allows customers to get the best performance out of their machines for a high level of jobsite productivity,? said Jarno Viitaniemi, product manager at Sandvik Mining and Rock Technology. ?The DX900i is the most powerful rig in its class, providing the largest coverage. The new models are designed to make rock drilling easier and more comfortable for operators,? Viitaniemi added.
According to Sandvik, the Ranger DXi models are used in limestone and aggregate production, for mining and some production drilling and for infrastructure and road construction. During preparation for the operation, a drilling plan is stored via software on a laptop or PC and is transferred wirelessly to the machine.
Automatic features aim to enhance the volume of holes to be drilled, the size and distance being set on the drilling pattern. Drilling data is stored, allowing the operator to add extra notes.
Volvo Penta?s TAD852VE and TAD872VE are installed in the Ranger DX900i, with the TAD851VE and TAD871VE being used in the Ranger DX800i. Each model is an off-road, six-cylinder engine featuring common-rail fuel injection, overhead camshaft and turbo. The TAD851VE and TAD871VE have a power output of 185 kW, while the TAD852VE and TAD872VE provide power of 210 kW. Optimised Selective Catalytic Reduction (SCR) technology and a light cooled exhaust gas recirculation (EGR) focus on contributing to efficient combustion.