The total value of 1,381 active transport projects in the GCC rose one per cent in a month to February 2017 to US$379.7bn from January 2017, according to a report
In terms of value, rail represents US$190.4bn or 50 per cent of the total US$379.7bn worth of projects followed by road construction representing US$121.4bn or nearly 32 per cent of all transport projects. The aviation sector has over a hundred ongoing projects worth over US$41bn while the marine project value reached US$26.5bn, BNC Networks stated.
With 1,028 projects or 74.43 per cent, the highest number of active transport projects is within the road construction sector.
"These facts reflect the strong focus by the governments of the six oil-rich GCC countries on improving physical connectivity that is crucial for cross-border movement of goods and services as well as economic integration of the region to become a stronger economic block,? Avin Gidwani, CEO of BNC Networks, says.
?Improved and efficient transport network will become vital for cross-border tourism and people-to-people engagement as the region's governments push economic development to the next level.?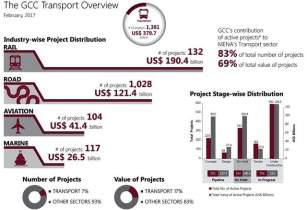 The transport sector constitutes seven per cent of the number of all active projects in the GCC. However, in terms of value, transport projects account for 17 per cent of the total estimated value for all projects in the region. Of these, 592 projects, or nearly 43 per cent of the projects with an estimated value of around US$128bn are under construction in the UAE.
Some notable multi-billion dollar transport projects under construction include Riyadh Metro project in Saudi Arabia, expansion project of Kuwait International Airport (KIA) and Midfield Terminal Complex (MTC) in the UAE.
BNC Project Intelligence shows seven transport projects with a combined value of around US$890mn were awarded in February 2017. The largest transport to be awarded in February was the new liquid berths terminal project at Duqm Port worth US$510mn in Oman.
Twelve transport projects with a combined value of US$380mn were completed in February 2017.