Louis Berger has signed the deal with Al Madinah Al-Munawarah Development Authority to manage Madinah?s Public Transportation Program (MPTP)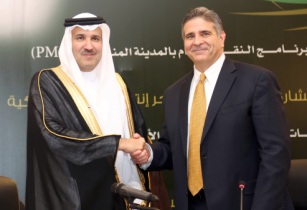 MMDA chairman HRH Prince Faisal bin Salman bin Abdulaziz Al Saud (left) and Thomas Topolski, Louis Berger?s executive president and managing director for MENA. (Image source: Louis Berger)
Company representatives signed the US$100mn program management office consultant (PMOC) contract with Al Madinah Al-Munawarah Development Authority (MMDA) chairman HRH Prince Faisal bin Salman bin Abdulaziz Al Saud last week.
The contract will last five years, during which time Louis Berger will assist with MPTP?s strategic planning as well as controlling, guiding and overseeing the service delivery of the various project and construction management consultants and advisors.
?We could not be prouder to be associated with MMDA in the implementation of the MPTP for the holy city of Madinah,? said Louis Berger president of international operations D James Stamatis. ?The implementation of an advanced public transportation system will endow Madinah with one of the most advanced transportation systems in the world.?
The MPTP project will include a comprehensive metro and bus network, as well as upgrades and fresh construction on the network of roads and various other facilities, including stations, park-and-ride lots, depots, and advanced intelligent transportation systems.