?Going green? was one of the most talked-about topic in the seminars of the Big 5 Construct India, where most companies showcased their sustainable energy contents for better ecology in the country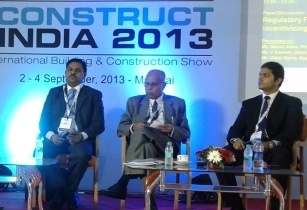 Manoj John, V Suresh and Vidur Berry were the guest speakers at the seminar. (Image source: Big 5 Construct India)
A seminar ? Regulatory framework: Supporting sustainable construction ? held on the second day of the event stressed on the importance and effectiveness of buildings made out of sustainable and eco-friendly components.
India?s construction industry is growing at a rapid pace and it is set to become the third largest construction market by 2020. This was the reason why many firms are looking at India as the potential hub of ?sustainable? buildings.
Manoj John, vice president corporate planning and strategy of RNA Corporation, said, ?We are awaiting Maharastra government?s nod for policies on green buildings. The country sees not many incentives such projects. The customers too must be instrumental in pushing forward the policies.?
A green building is essentially a structure that is built in order to preserve energy, water and produce less waste. In short, they are more or less ?self-sufficient?, experts say.
V. Suresh, director of Hiranandani Group of Companies, said, ?People have become very sensitive to the issue and their are regulatory bodies, if not in a big way, in cities like Bangalore, Hyderabad, Chennai, etc.?
He added that the National Building Code of India has revised its 2005 version to inscribe the section on sustainable energy. Hence, in his opinion, the government was doing it bit on the erection of green buildings.
Making a note on the durability of such structures, Suresh said that a building or a house could achieve a life cycle of 40-50 years. It also depends on the materials used, he added.
FM Approvals, a third party certification firm, said that it certified and insured the ?green buildings? and gave various incentives to those who were forthcoming for such projects.
Vidur Berry, approvals engineer of FM Approvals, said, ?Our company engineers every property and then insures. Hence there is a cent per cent guarantee of the quality of eco-friendly products being used in the buildings.?
Speaking about encouraging people to push for such projects, Suresh said that many corporate offices in India have turned to sustainable models. This saves them energy and water and makes them a better environment to work in.
John said, ?Gujarat is already offering incentives to green house owners for selling the surplus energy back to the state. This way, the residents are encouraged to save more.?
Berry added that the country needs to look further into its laws to imbibe the sense of ecofriendly environment.