Celebrating 25 years of success in the compact excavator market, Bobcat will be showcasing its complete range of loaders and mini-excavators at Intermat 2012, to held be in Paris from April 16-21 2012.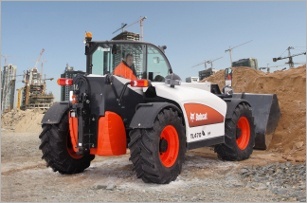 Bobcat will showcase its complete range of compact loaders and mini-excavators at Intermat 2012.
The range currently comprises 13 different models of compact excavators with operating weights from 1-8 tonne, including both conventional and zero tail swing designs.
Bobcat will displaying the new E Series excavators including the new 2.6 tonne zero tail swing E26 compact excavator. The new high horsepower TL470HF telescopic handler will also be demonstrated.
The high horsepower TL470HF telescopic handler is powered by the 97.5 kW (130 HP) Perkins 1104D-E44TA diesel engine, offering higher horsepower and torque for superior performance and a maximum travel speed of 40 km/h.
The high horsepower engine enables the TL470HF to offer increased torque, enabling improved performance and productivity. Combined with a new load sensing pump delivering a hydraulic flow of 190 l/min, the TL470HF model offers faster cycle times at a lower engine speed when performing both single and combined boom movements. This helps to reduce fuel consumption and improve efficiency.
The TL470HF telescopic handler has a maximum lift capacity of 3.5 tonne and a maximum lift height of 7.0 m. The capacity at full lift height is 3.0 tonne, while the maximum forward reach is 4002 mm and the lift capacity at full reach is 1500 kg.
Among the new Bobcat attachments at Intermat will be the new sonic tracer system for use with the two largest 244 and 274 cm (96 and 108 inch) heavy duty grader attachments. The tracer emits ultra sonic signals to maintain a set distance or elevation from an object, surface or the ground.
Installed on the blades of the 244 and 274 cm graders, the sonic tracer allows them to be used to grade, level, and backfill on a multiple slope terrain when following a string line, kerb stone, the gutter or even a previous pass as a grade control. Grade accuracy is 6.4 mm, and the detection range of the sonic tracer is from 200 to 1300 mm.