His Highness Sheikh Mohammed Bin Zayed Al Nahyan, Crown Prince of Abu Dhabi, inaugurated the fifth edition of the World Future Energy Summit in Abu Dhabi.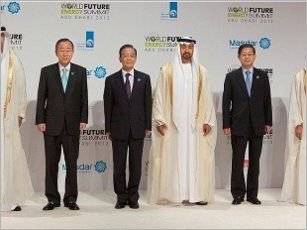 The Crown Prince of Abu Dhabi, Sheikh Mohammed Bin Zayed Al Nahyan, inaugurated the fifth edition of the World Future Energy Summit in Abu Dhabi.
In his welcome address, Dr Sultan Ahmed Al Jaber, the CEO of Masdar, outlined the huge advances the renewables sector has made in recent years. "Over the last decade, the renewable energy sector has grown immensely," he told delegates.
Immense growth
"The production capacity for wind has increased by a factor of 10 to reach 200 GW, while solar has increased by a factor of 30, to reach almost 35 gigawatts. Production and technology advances have led to a sharp decrease in the cost of production, and the market value of the renewable sector has increased from US$1 billion to US$211 billion ."
Four-stage process
In his keynote address, the Chinese Premier, Wen Jiabao, praised the UAE's vision and courage in the field of sustainable development. He outlined a four-stage process to address the world's future energy challenges, with the priority being energy conservation and energy efficiency.
"To save energy does not mean simply to cut energy use, nor does it compromise people's quality of life," he told delegates. "What is needed is to rely on science and technology to increase energy efficiency, build a circular national economy featuring low input, high output and low energy consumption and emissions, and drive sustainable economic and social development with minimum energy and resource consumption."
The Chinese Premier outlined the steps his own country is taking to address energy challenges, including shutting down coal fired generators, investing in wind, solar and hydroelectric power and increasing energy efficiencies in its traditional industries.
Active co-operation
In his own keynote address, South Korea's Prime Minister, Kim Hwan-sik, stressed the need for active co-operation between developing and developed countries in expanding renewable energy resources. "To distribute renewable energy to the world, active financial support and technology transfers from developed countries to their developing counterparts are required," he said.
Kim also stressed the importance of "the peaceful usage of nuclear energy" under guarantees of "safety and non-proliferation" until alternative energy resources can fully replace fossil fuels.
Greater commitments
UN Secretary-General Ban Ki-moon, in his keynote address, called on governments, the private sector and civil society to make greater commitments in support of his Sustainable Energy for All Initiative. "Widespread energy poverty still condemns millions to darkness, to ill health, to missed opportunities for education," he said, adding that one in five people still lack access to electricity.
"It is not acceptable that three billion people have to rely on wood, waste and charcoal for their energy needs," he said. His call to action underscores the importance of energy to sustainable development, and contributes to the global launch at WFES of 2012 as the International Year of Sustainable Energy for All.