Egyptian energy experts are set to impart important insights on planning and financing decarbonisation across MENA during live and in-person Middle East Energy 2022, taking place at Dubai World Trade Centre from 7-9 March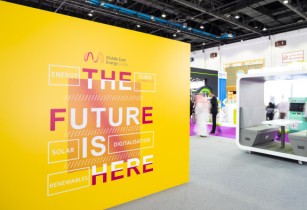 The aim is to highlight the transformations of Egypt's energy sector. (Image source: MEE 2022)
The event is expected to attract over 18,000 energy professionals for a three-day conference featuring five key product sections: smart solutions, renewable and clean energy, critical and backup power, transmission and distribution, and energy consumption and management.
With the ongoing expansion of its offshore gas fields and growing LNG exports, Egypt enjoys a unique opportunity to develop new non-carbon energy sources for its own economic growth. The rapid deployment of new solar and wind plants is opening the way for Egypt to meet its goal of 42% of electricity from renewables by 2035. This gain is now enhanced with huge hydrogen potential, seen in recent green hydrogen project announcements and the government?s pending US$40bn hydrogen strategy.
Ahmed Badr, director, project facilitation and support, International Renewable Energy Agency (IRENA), will offer strategic insights on how Egypt, now a major LNG production centre and exporter, can continue to build on this breakthrough by developing new clean energy resources that drive economic growth.
According to recent renewable energy market analysis by IRENA, the investment landscape for North Africa was the second-largest recipient of renewable energy investments during 2010-2020. As a region, North Africa attracted US$17.5bn ? or 32% of the total for the decade ? mostly flowing into Morocco (US$9.5bn) and Egypt (US$8.2bn).
?Middle East Energy provides Egypt?s energy sector planners, developers and innovators with the perfect venue to show how they are transforming their nation?s energy sector and why their unique approaches to future energy offer solutions for Gulf states and the wider world,? said Azzan Mohammed, exhibition director, MEE.
Informa, organisers of the event, have confirmed that over 500 global exhibitors will participate in the 47th edition of the energy showcase, with marquee brands, including Lucy Electric, Cummins, Emirates Transformers, Ducab, Riyadh Cables Group and Bahra Cables Company set to showcase a range of solutions and technologies to accelerate the path to the energy transition.
Sponsors include Perkins, Baudouin, Newage Stamford AVK and Rieloo UPS at this year's event.