General Electric (GE) showcased the latest turbine technology and launched the new 9HA and 7HA turbines at POWER GEN Middle East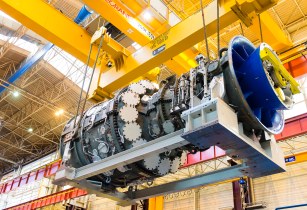 The 9HA turbine exceeds 470MW per unit, using less gas per megawatt than any other turbine in the market, stated GE officials. (Image source: GE)
POWER GEN Middle East was held from 12-14 October 2014 at the Abu Dhabi National Exhibition Centre in Abu Dhabi.
The Economist Intelligence Unit estimated the Middle East?s electricity needs would increase at seven per cent per annum over the next decade. As part of GE?s goals to accelerate infrastructure investment in the Middle East power sector, the company launched the 9HA and 7HA turbines, for 50Hz and 60Hz applications.
Mohammed Mohaisen, CEO of GE power generation products and services sales of MENA, said, ?The Middle East?s power sector is witnessing a transformational shift towards cleaner resources in addition to a focus on increasing output by strengthening plant efficiency. This two-pronged approach, which supports the regional governments? goal for a sustainable energy future, is addressed by the advanced technologies that GE is showcasing at Power-Gen Middle East.?
GE?s latest air-cooled H-class technology operates at more than 61 per cent combined cycle efficiency and leads the industry with cleaner, reliable and cost-effective conversion of natural gas to electricity.
The 9HA also leads the industry in output, exceeding 470 MW per unit while using less gas per megawatt than any other turbine on the market. The HA turbines will help power plants in the Middle East meet the growing demand for electricity.
In addition, GE also showcased the new 9EMax solution, which aims to deliver more power at lower costs. This breakthrough technology can further elevate output and efficiency of existing GE 9E gas turbines while empowering power providers to rapidly and cost-effectively deploy the solution, stated officials from GE.