The green revolution sweeping the region has given rise to a new initiative in Sharjah that will offer an eco-friendly alternative to everyday products and promote a greener lifestyle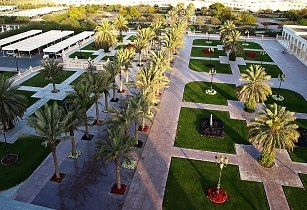 With the UAE planning to invest up to US$20bn in the green sector in the near future, manufacturers and dealers have been quick to sense the opportunity. (Image source: Basil Soufi/Wikimedia Commons)
The initiative is also aimed at giving a major fillip to several initiatives such as labelling green products, rating performance of companies etc. launched by civic bodies and corporates in the country that has one of the world's highest per capita environmental footprints.
An agreement was signed between Saif Mohammed Al Midfa, director-general of Expo Centre Sharjah and organiser of Green Middle East, and Gregor Konrad, owner of Vienna-based Concept Agentur f?r Marketing & Kommunikation and its marketing and distribution arm, Select Economy.
Select Economy will co-organise 'Middle East Green Products' that will host about 100 companies, mostly from Germany and Austria, focusing on green products.
Midfa said, "Our government, civic bodies and establishments are striving hard to embrace the green wave sweeping the region. Green Middle East was launched a couple of years ago to act as a catalyst to help all stakeholders adopt clean technology. Now, with the products, we aim to penetrate the consumer market with products, which, when compared to non-eco alternatives, look and feel just as great or better."
"For businesses, eco-friendly practices can not only save money but also contribute to realising the vision of the UAE's leaders, apart from providing social and environmental benefits that are immense in their value," he added.
With the UAE planning to invest up to US$20bn in the green sector in the near future, manufacturers and dealers have been quick to sense the opportunity.
"Germany and Austria are home to innovative companies that produce high-quality green products and services and lots of them are interested in a new export market that has the potential like the UAE," said Konrad.
"We saw a big advantage in Sharjah - it is more individual and personal. Through the Middle East Green Products, we will promote a greener lifestyle here.
"Looking at the import-oriented market here, we are planning a product range that covers food and beverage, cosmetics, pharmaceuticals, textiles, household articles, products for animals, games and toys for children," added Konrad.
The Middle East Green Products will be an integral part of the third Green Middle East exhibition and conference, held under the aegis of HH Sheikh Dr Sultan bin Mohammed Al Qassimi, ruler of Sharjah. It is slated to be held at Expo Centre Sharjah from 28 to 30 October 2013.