The Global Energy and Utilities Forum of the Middle East Energy started with opening remarks by HE Yousif Al Ali, assistant undersecretary, electricity, water and future energy sector at the Ministry of Energy and Infrastructure, the UAE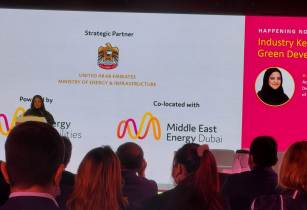 The UAE continues to work in the decarbonisation of the fossil fuels sector. (Image source: Fyna Ashwath)
"In the UAE, we are continuously seeking economic growth and to ensure future readiness of the nation. Ahead of the COP26, UAE had announced the net zero emissions by 2050 initiative, making it the first nation in the MENA region, to do so.
The UAE is committed to the energy transition through domestic and foreign investment and has a comprehensive plan for reducing the carbon footprint," he said.
"While supporting various initiatives such as waste-to-energy and hydrogen technology, we continue to work in the decarbonisation of the fossil fuels sector," added Al Ali.
HE Aisha Ali Abdooli, acting assistant undersecretary for green development and climate change, Ministry of Climate Change & Environment ? the UAE, delivered the industry keynote address : UAEs roadmap to green development and net zero goals. ?The environment has always been at the core of the UAE' development goals. The government is continuously working to diversify the economy while conserving the environment,? she remarked.