Eleven French businesses are taking part in the Middle East Energy exhibition from 7-9 March 2022 to offer solutions that are innovative, efficient and competitive to the region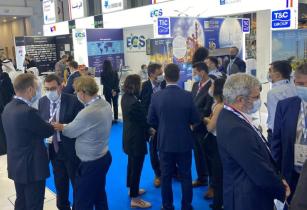 The French businesses will offer region-specific solutions during MEE 2022. (Image source: Business France)
Expected to bring together over 800 exhibitors and thousands of visitors, specifiers and experts from around the world, this major energy gathering in the MENA region will host 11 companies on the French Pavilion organised by Business France.
The 11 French businesses are all experts in energy storage, equipment and applications, electricity transmission and distribution, network protection products, systems and lighting. The MEE will also be the occasion for the French companies to discover the new market demand, share their valuable industry knowledge and develop new areas of business and strengthen existing ones.
The countries in the MENA region are currently investing heavily in enhancing their electricity infrastructure and building new power lines, in order to secure supply and respond to the increasing demand for electricity by their booming economies and populations. This includes the development of HDVC (high voltage direct current) interconnection projects, such as connecting Egypt to the interconnected networks of the GCC, or connecting Saudi Arabia to North Africa, and Egypt to Iraq via Jordan. The strategic importance of energy cooperation between the countries of the Middle East and North Africa has therefore never been stronger.
In conjunction with the announcement that the UAE will host COP28 in 2023, the French companies are keen to introduce new solutions and systems to support the energy transition, deliver cleaner energy and supply sustainable power.
Opportunities won by France in the region:
A consortium of EDF, KEPCO and Kyushu Electric Power Co has just signed a US$3.6bn strategic electricity transmission contract, alongside ADNOC and TAQA, to develop and operate a high voltage direct current (HVDC-VSC) subsea transmission system, which is a first in the Middle East and North Africa region. This project will reduce ADNOC?s offshore carbon footprint by more than 30% and contribute to the UAE?s net zero carbon targets (net zero by 2050 Strategic Initiative).
The consortium, which will have a combined 40% stake in the project, will develop and operate the 3.2GW transmission system alongside ADNOC and TAQA over a 35-year period. Work is scheduled to begin this year, while commercial operations are planned for 2025.
Engie and Masdar (the fastest growing renewable energy player in the world), have signed a strategic alliance to co-develop a green hydrogen hub in the United Arab Emirates. Both of these businesses are seeking to deploy projects with a capacity of at least two gigawatt by 2030, for a total investment in the region of US$5bn.
Some of the French exhibitors at the MEE include Cable Equipements, Depagne, Infosec, Lancier Sas, Niled, Obsta, Rs Isolsec, Saft, Sediver etc.