Middle East Energy 2022, formerly known as Middle East Electricity, is set to open its doors once again for its 47th edition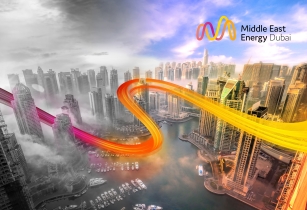 Middle East Energy will also be supported by the Global Energy & Utilities Forum. (Image source: Informa)
After hosting more than 800 international exhibitors such as Perkins, Baudouin, Newage Stamford AVK, Riello UPS, Cummins to name a few, Middle East Energy 2022 now plans to welcome visitors with its unique experience with alternative energy suppliers and professionals from across the sector to showcase the latest in energy products and solutions while discussing the future of energy in emerging markets.
Held under the patronage of HH Sheikh Mohammed Bin Rashid Al Maktoum, Vice President and Prime Minister of the UAE and Ruler of Dubai, and hosted by the UAE Ministry of Energy & Infrastructure, the three-day event will take place from 7 ? 9 March 2022 at the Dubai World Trade Centre.
Keeping in line with an evolving need for a diverse, digitised and sustainable future, the event will feature five specific product sectors ? smart solutions, renewable & clean energy, transmission & distribution, energy consumption & management and critical and backup power.
Visitors and exhibitors have the chance to network with government officials, experts from the utility sector, contractors, distributors, manufacturers, energy consultants, project financiers and build long-lasting business relationships and gain new perspectives on the energy industry.
Middle East Energy will also be supported by the Global Energy & Utilities Forum, which provides a foundation to the core messaging of Middle East Energy by bringing together industry experts and providing them with a platform for thought leadership, collaboration, and solutions for meeting this drastic shift within the global energy sector.
Delivered through high-level strategic panels, technical sessions, roundtable discussions and workshops, the forum has been developed around the central pillars within the energy transition, featuring major themes including decarbonisation, finance & investment, digitalisation and technologies.
For more than 45 years, Middle East Energy has been showcasing innovative products and solutions that help facilitate the region?s commitment to reducing its carbon footprint of power generation.
To register for the event, visit https://bit.ly/3qcHl7G