Mitsubishi Power, the power solutions brand of Mitsubishi Heavy Industries, Ltd (MHI) demonstrated its core expertise of providing reliable, innovative, and advanced energy solutions, to drive decarbonisation and energy transition in the Middle East, at this year?s World Future Energy Summit (WFES)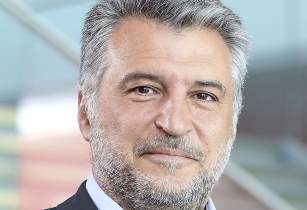 Dr Emmanouil Kakaras, executive vice-president of Next Energy Business at MHI EMEA. (Image Source: Mitsubishi Power)
The summit was held from 17-19 January in Abu Dhabi, UAE.
At the summit, Mitsubishi Power highlighted the brand?s most successful turbines in the industry ? the J-Series Air Cooled gas turbines ? which boast world-class reliability of 99.6% and efficiency of greater than 64%. Capable of operating on a mixture of up to 30% hydrogen and 70% natural gas, the turbines can be increased to 100% hydrogen in the future. Mitsubishi Power aims to achieve 100% hydrogen readiness in these large-scale, industrial J-class gas turbines by 2025, followed by commercialisation thereafter. This transition capability of gas turbines will significantly elevate the demand for hydrogen in the region, ultimately driving innovation and cost reductions and play a crucial role in helping countries reach net zero.
Currently, Mitsubishi Power?s JAC-class gas turbine is set to power a 2.4GW gas-fired Fujairah F3 GTCC power plant being built in the UAE. It will be the largest natural gas fired GTCC facility in the UAE, sufficient to power 380,000 households in the country, playing a crucial role in the country?s power generation sector and contributing to the GCC?s power grid. Fujairah F3 is the first project in the Middle East utilising the Advanced M701JAC model turbines.
Mitsubishi Power completed the shipment of gas turbines in December 2021 and full commercial operation is scheduled to begin in 2023.