The Gulf Cooperation Council?s (GCC) transport industry has been valued at almost US$300mn, according to event organisers of PMV Live, who hosted a roundtable discussion of leading plant, machinery and vehicle (PMV) industry players in Dubai this week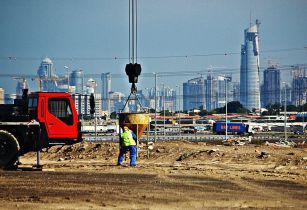 The PMV industry has seen rapid growth across the GCC region. (Image source: Basil D Soufi/Wikimedia Commons)
The discussion revealed that 2013 has been a positive year so far for construction in the GCC and the PMV industry has seen growth across a number of markets.
?I expect 2014 to be a good year,? said Martin Kirby, managing director of Wolffkran Arabia, adding, ?There are some big mega projects in Abu Dhabi but the fundamentals are all there in Dubai. A lot of small projects will come around to supplement the mega projects.?
Kirby took part in the roundtable discussion and was joined by Jen Bawidamann, regional director of Putzmeister Middle East; Talal Al Mahroos, M.H.Al Mahroos marketing manager; Abdul Qader Mohamed Al Ali, president of Al Wasit Machinery; Nabil Al Zahlawi, NFT Cranes managing partner; and Nathan Waugh, event director for PMV Live.
Al Ali focussed on the potential of the Omani construction market, where numerous large-scale infrastructure projects have been planned for the future, including roads, rail, sea ports and airport construction.
?As event organisers, we are definitely seeing a real momentum in the industry,? PMV Live?s Waugh. He added, ?With a number of big infrastructure and transport projects underway and in the pipeline, the PMV market sees significant opportunities in these sectors which will contribute to its growth in the coming years.?
PMV Live 2013 will showcase products and technologies from across the regional and international industry. It is set to take place from 25-28 November at Dubai World Trade Centre. For more information visit www.pmvlive.com.