Saudi Arabia has become one of the world?s most competitive economies according to Rockwell Automation, which recently held a manufacturing industry event in Dammam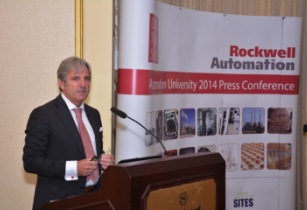 Rockwell Automation president EMEA Hedwig Maes inaugurated the two-day manufacturing event.
Held over two days, the Automation University Classic saw more 500 professionals from the IT, power and water, metals, and energy industries attend and offered its visitors the opportunity to see the latest in industrial automation.
Rockwell Automation president EMEA Hedwig Maes said, ?The region has shown great potential and we, together with our partners, hope that this platform will contribute to the country?s development while we expand our footprint in the Middle East.?
The industry event included demonstrations that showed visitors real-life industry environments and scenarios as well as products, systems and services. 150 demo cases and computers allowed attendees to gain hands-on experience with hardware and software products.
The Connected Enterprise seminar, expressed the importance of connecting the plant floors with enterprise systems in a secure way primarily by using enabling technologies and digital solutions, such as mobile devices, the cloud and big data.
The Automation University Classic also featured an exhibition, including partner exhibitors such as ProSoft Technology, Molex, Status Technologies, Cisco, and ATCO.
Rockwell Automation?s regional president inaugurated the event, along with a guest delegation that featured executives from the kingdom, including representatives from Saudi Aramco and Saudi Electricity Company.