The 11th round of SABIC Technical Meeting (STM), under the patronage of Saudi Arabian Basic Industries Corporation (SABIC), will be held 3-5 November 2014 at the Multi Event Center in Jubail Industrial City, Saudi Arabia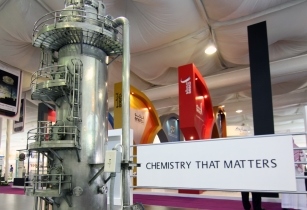 The STM has seen a notable growth in the number speakers, visitors and exhibitors that has led to a demand for an increase in the exhibition space from 12,000 square metres to 20,000 square metres. (Image source: SABIC)
Organised by Al-Harithy Group - ACE Creative, STM is a specialised meeting where SABIC officials and researchers gather every other year to exchange technical knowledge and get acquainted state-of-the-art technologies.
This year?s exhibition is touted to be the largest exhibition in the Kingdom and one of the largest in the Middle East, with the theme ?Commitment to Reliability & Sustainability. SABIC has invited companies from all over the world to present their latest products, services and technologies to SABIC decision makers and top professionals.
The three-day event includes wide range of technical programmes like keynote speeches, workshops and paper session by experts from Saudi Arabia and other parts of the world.
An exhibition, also part of STM-11, has been drawing a growing number of participants over the years, the organisers said. The last event attracted 310 exhibitors from 23 countries.
STM has been attracting leading corporations such as GE, ABB, Siemens, Emerson, Schneider, Shell, Yokogawa, Emerson, Johnson Matthey, Honeywell, Hisaka, Endress & Hauser, 3M, BASF Corporation, HOERBIGER, GEA Group, V Line Group and many others who have participated consecutively in the last three events.
The sectors for STM-11 include petroleum, mineral resources, and chemicals, industry and electricity, infrastructure and development, environment, agriculture and water, communications and electronics, education and training, health and safety, operations and maintenance, and transportation and shipping.
The STM has seen a notable growth in the number speakers, visitors and exhibitors that has led to a demand for an increase in the exhibition space from 12,000 square metres to 20,000 square metres.
SABIC operates in 40 countries as the world?s second largest diversified chemicals company.