Shells work on developing environmentally friendly lubricants and commercial fuels that save on energy, engine life, and cost were showcased at this years Water, Energy, Technology and Environment Exhibition (WETEX).
Speaking at the event, Belinda Perriman, Upstream Commercial Manager for Shell in the UAE, said "climate change is a major challenge affecting the whole world. The related challenge in the UAE and wider GCC is to meet the growing local demand for energy with lower emissions."
"Increased exploration and development of indigenous gas, which is the cleanest burning fossil fuel, will reduce the burning of valuable higher carbon liquid fuels, such as diesel and fuel-oil, for power."
Along these lines, Shell is pioneering Gas to Liquid (GTL) fuel solutions using the world's largest gas-to-liquids plant in Qatar, which it built in partnership with Qatar Petroleum.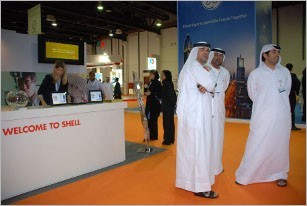 Going beyond the need to explore alternative energy sources, Shell also develops products that optimise existing fuels and lubricants allowing customers to decrease their environmental footprint.