During his speech at the conference of Smart Electricity World, HE Saeed Mohammed Al Tayer, MD & CEO of Dubai Electricity and Water Authority, delivered a speech to a wide range of energy experts and business leaders from around the Gulf about the enormous strides that DEWA has made to strengthen Dubai as the primary hub for finance, trade and business for the region and around the world.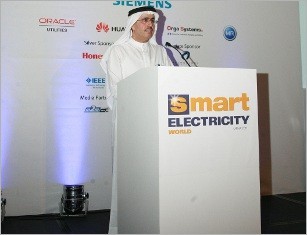 HE Saeed Mohammed Al Tayer delivered a speech to a wide range of energy experts and business leaders from around the Gulf.
"Utilities in the region face three major challenges. Firstly, rising demands for energy and water. Secondly, the need to move towards a low-carbon, environmentally-friendly, diverse and secure energy supply mix. Finally, the utilities have to deal with volatile fuel prices," he said.
"Implementing Smart Grids constitutes an effective response to addressing some of these challenges. When we speak about Smart Grids, the European Technology Platform defines them as grids that can intelligently integrate the actions of all users connected to it; both utilities and customers alike, to deliver electricity supplies in a sustainable, economic, efficient and secure manner. The Smart Grid is a multidirectional grid that enables the flow of both electricity and data in order to realize real-time management of supply and demand."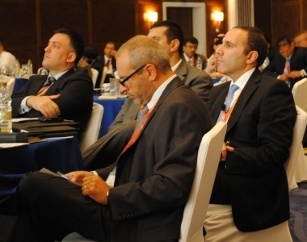 "DEWA has already implemented a number of smart technology measures on its electricity networks, such as using the latest SCADA systems, intelligent asset monitoring, control and automation. DEWA has improved its distribution network efficiency by converting the 6.6 kV network to the more efficient 11kV network, resulting in significant reduction in electricity-network losses."
"However, for utilities, there are still barriers we need to overcome. Several examples include the need to change consumer behavior, ensure cost-effectiveness, overcome financial constraints and perceived grid complexity, and maintain grid reliability and cyber security. Policies, legislation, regulations and international technical standards are still being formulated and are continuously-evolving."
"Progressing with smart electricity and water technologies will enable control and ease the participation of various types of domestic, commercial and industrial demands on Smart Grids. These present not only challenges but also new opportunities, such as; Smart transportation technology in the form of Electric Vehicles and Plug-In-Hybrid Vehicles. These will play an important role for future Smart Grids and this requires a clear grid integration strategy."
His Excellency concluded, "The security of supply and environmental challenges facing societies are complex and interrelated but are very real. I am convinced that embracing the Smart Grid revolution will help utilities meet these challenges."