Supreme & Co, power equipment company, showcased its products at ELECRAMA 2014 that was held recently at the Bangalore International Exhibition Center (BIEC) in India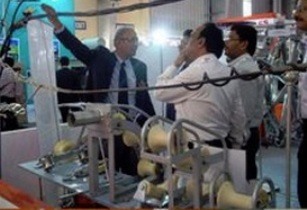 Harish Kumar Agarwal, CEO of Supreme & Co, explains the products to visitors at ELECRAMA 2014. (Image source: Supreme & Co)
Established in 1970 as a fasteners manufacturing unit in India and with an annual turnover of US$48mn, Supreme & Co has been exporting its products since 1975. The company sells products for power transmission and distribution (T&D) upto the range of 1,200kV, besides construction, railways, telecom and engineering industries.
Supreme & Co export markets are currently the UAE, Yemen, Saudi Arabia and Oman in the Middle East.
The company?s products for T&D market include poleline hardware, aerial bundled cable fittings, sub-station fittings, insulator hardware fittings, earthing materials, helical products, compression connectors, connectors for heat-shrink fittings, among others.
Supreme & Co also provides Smart Grid Solutions and is the first Indian company to build Smart Grid City in Puducherry. This project ensures smart generation of electricity via renewable and micro grid, apart smart distribution of power.
Talking about the Indian electrical sector, Harish Kumar Agarwal, CEO of Supreme & Co, said, ?T&D in the sector has seen a massive change. However, the renewable energy sector needs to be integrated in the country. The production is huge but there is no storage capacity.?
With regards to ELECRAMA, Agarwal said that the company made its first participation six years ago, and has been happy with the quality of the event. ?Everybody who matters is here,? he added.