Hosted by the UAE Ministry of Climate Change and Environment with the United Nations Food and Agriculture Organisation (UN FAO) as strategic partners, Tevel Technologies Aerobotics has announced to showcase its patented Flying Autonomous Robots (FARs) technology at Food For Future Summit 2022 held at Dubai Exhibition Centre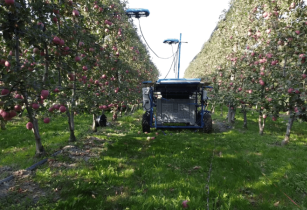 Two flying autonomous robots (FARs) and ground control smart bin system. (Image source: Tevel Technologies)
The aim is to support the UAE and the Middle East region with food security.
With the recent launch of FARs in the Middle East region by Tevel, the company will provide innovative harvesting solutions combined with cutting-edge algorithms, machine learning, artificial intelligence and data analytics which have the potential to revolutionise the agriculture industry in the region.
It is estimated that the human population will grow by 40% to 9.7 billion by 2050, requiring fruit production to double its production. Agricultural employment will be reduced in half by 2050, resulting in a shortage of around five million fruit pickers.
As part of the demonstrations at the Food For Future Summit, Yaniv Maor, CEO, Tevel, said, ?It is estimated that growers worldwide lose US$30bn in sales a year as fruits are not picked on time. If you look at the UAE, it imports about 90% of its food and the population is around 10 million and rising rapidly.?
Tevel has raised US$20mn from global investors including Kubota, Forbon and AgFunder, among others and is looking for further investments from the UAE market to upscale its solutions and make them available to the UAE and the GCC region.