A high-level delegation of ministers and industry leaders from the UAE are confirmed to participate at the fourth edition of the Global Manufacturing and Industrialisation Summit, which will be held from 22-27 November at the Dubai Exhibition Centre at EXPO 2020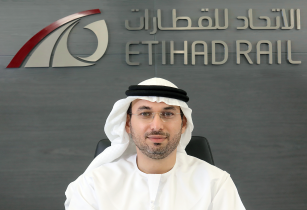 Shadi Malak, CEO of Etihad Rail. (Image source: GMIS)
Co-chaired by the UAE Ministry of Industry Advanced Technology and the United Nations Industrial Development Organization, #GMIS2021 will convene over 45 UAE policymakers and industry leaders, alongside over 250 international speakers, to engage in 70 sessions from 22-27 November. Under the theme, ?Rewiring Societies: Repurposing Digitalisation for Prosperity?, discussions at the Summit will explore how data and connectivity are becoming the leading factors shaping the future of supply chains, green manufacturing, sustainable energy, climate action, policymaking, and resilient global economies.
Dr Sultan bin Ahmed Al Jaber, UAE minister of industry and advanced technology, and LI Yong, director general of the United Nations Industrial Development Organization (UNIDO), in their capacity as co-chairs of the Global Manufacturing and Industrialisation Summit, will give keynote addresses at the opening ceremony on the first day of the Summit. Khaldoon Al Mubarak, managing director and Group CEO of Mubadala, will conduct a one-on-one fireside chat titled ?Investing in the leading edge of innovation? moderated by John Defterios, former CNN anchor.
Other Ministers from the UAE participating during the first two days of the Summit including Hussain bin Ibrahim Al Hammadi, minister of education, who will be a panellist on a session titled ?Digital mobility: Work from home to work from anywhere?, Omar bin Sultan Al Olama, minister of state for artificial intelligence, as well as Dr Ahmad Belhoul, minister of state for entrepreneurship and small and medium enterprises, and Thani bin Ahmed Al Zeyoudi, minister of state for foreign trade.
With special emphasis on the Summit?s host country, a dedicated session will explore how the UAE?s national strategy for industry and advanced technology, ?Operation 300bn?, aims to transform the nation into a diversified, industrial economy over the next 30 years. The National Strategy stems from an integrated vision of the Ministry of Industry and Advanced Technology to develop the UAE industrial sector and establish the UAE as a global hub for future industries. Saeed Ghumran Al Remeithi, CEO of Emirates Steel; Abdaullah Al Shamsi, assistant undersecretary for industry growth sector at the Ministry of Industry and Advanced Technology; Abdulnasser bin Kalban, CEO of Emirates Global Aluminium; Khaleefa Yousef Al Mheiri, Acting CEO of TA?ZIZ; Ahmed Mohamed Al Naqbi, CEO of Emirates Development Bank; and Saud Abu Al-Shawareb, managing director of Dubai Industrial City; will join the discussion on ways to safeguard public health, advance sustainable economic growth, deploy clean energy solutions, drive industrial innovation, and promote responsible consumption and production.
Shadi Malak, CEO of Etihad Rail, said, ?As digitalisation continues to radically change the mindset and operating models for manufacturers and operators, the future of the industry should focus planning for the future via innovations driven by public and private partnerships. Organisations are increasingly looking towards the implementation of new technologies like the Blockchain, artificial intelligence (AI), the internet of things (IoT), and data analytics to drive growth, transparency , and trust. As such, private and public sectors alike must capitalise on this opportunity that GMIS is presenting to drive advancements across all aspects of society.?
Thought leaders from across government, industry, and academia will gather at #GMIS2021 over two days to engage in discussions and debates focusing on critical topics related to the manufacturing sector, including Quantum Machine Learning (QML), big data analytics, Industrial Internet of Things (IIoT), digital twins, smart factories, powering the blue economy, digital mobility, as well as data intelligence and the digitalisation of the energy sector.