Volvo Penta, together with its partner Al Masaood Power Division, is showcasing its latest additions to its engine range ? the new D13 power node, the TAD1346GE 500 kVA and the compact and powerful D8 at Middle East Energy stand H1.E10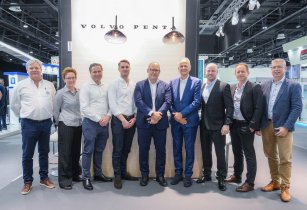 Volvo Penta is continuously updating its engine range to deliver higher performance with reduced emissions. (Image source: Volvo Penta)
Volvo Penta has a well-established reputation, thanks in part to its connections to the Volvo Group but also its trusted products and global network for aftermarket support. Striving to create quick value for customers is a key area of Volvo Penta's ethos ? with a focus on total cost of ownership (TOC), especially when it comes to reducing fuel consumption.
Anders Konradsson, vice-president global industrial sales, Volvo Penta, said, ?Volvo Penta genset engines are used around the globe for a wide array of applications from adding resiliency to the grid capacity, to vital power sources for new construction activities and disaster response.?
?Volvo Penta is committed to continuing to improve today?s engines to become even more efficient and reliable,? concluded Anders Konradsson. ?But it?s not just about the final product, we are committed to supporting our customers every step of the way with a strong aftermarket support present in over 130 markets worldwide.?
Rasso Bartenschlager, general manager, Al Masaood Power Division, said, ?Sustainability will remain the main theme of our upcoming participation in the MEE in Dubai this year. The portfolio of new Volvo Penta power generation engines to be exhibited in the event reflects our direction at Al Masaood Power to promote and push for more eco-friendly power solutions in the local and regional markets.?
?During the three-day show, we will feature products that are known for their reduced emissions, energy efficiency, low fuel consumption and low noise levels whilst, at the same time, underscoring our organisation?s commitment to outstanding service operations and after-sales service. This also demonstrates our relentless efforts to address demands in Abu Dhabi and the UAE for cleaner energy and a more sustainable power supply,? he added.