Yamuna Densons has introduced Densons Cold Shrink for joints and terminations for the Indian market at ELECRAMA 2014 recently held at Bangalore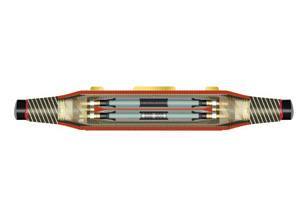 Cold shrink saves 80 per cent of manufacturing time vis-?-vis a heat shrink with the new technology. (Image source: Yamuna Densons)
A ?cold shrink? material is capable of shrinking without raising the material above the ambient temperature of its immediate surroundings.
The India-based company introduced heat shrinks in 1986, pre-moulded in 1990 and cold shrink in 2005. Yamuna Denson is the only company in India which currently manufactures cold shrink.
?It?s a new concept in India. People here have constraints to try something new which comes with an extra price,? noted Ravi Sardana, managing director of Yamuna Denson.
The product, as of now, has found acceptance in defence applications, gas cylinders and gas torches, where heat shrink is considered hazardous.
Cold shrink also saves 80 per cent of manufacturing time vis-?-vis a heat shrink with the new technology.
Talking about the company, Sardana said that currently the export and domestic share is 50-50 per cent. ?The growth has been challenging as well as rewarding,? he added.
?We are already in Gulf countries but we are trying to change the technology there as well. We want them to change to pre-moulded and cold shrinks. There is a big acceptance like Saudi Arabia has had a complete 100 per cent switch from heat to cold shrinks.?
Talking about Yamuna Densons at ELECRAMA 2014, he said it was a good decision as there were good leads and quality of visitors improved.
Sardana is optimistic about starting EPC contracts again, which was discontinued due to various factors. ?Acceptance of any new product takes time,? he added.