With the launch of Ducab Aluminium Company (DAC) earlier this year, Ducab is poised to further support the ambitions of UAE Vision 2021 and Abu Dhabi Economic Vision 2030 by increasing local manufac­turing, and reducing the dependence on hydrocarbons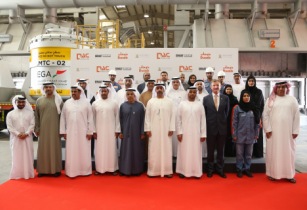 The Dubai Aluminium Company is the result of a US$60mn investment that seeks to strengthen the UAE?s industrial supply chain in line with the UAE strategy to champion industrial investments. (Image source: Ducab)
?Made in the UAE? is a phrase that Ducab has been proud to adhere to since the company was founded. Owned equally by Abu Dhabi?s General Holding Corporation (Senaat) and Investment Corporation Dubai (ICD), Ducab has produced cables and components since 1979 out of its facilities in Abu Dhabi and Dubai, which today are used by leading organisations and governments in the areas of energy, general construction, defence, transport and specialty industry applications
Located in Khalifa Industrial Zone of Abu Dhabi, also known as KIZAD, Ducab Aluminium Company is a joint venture between Ducab and Senaat. It is the result of a US$60mn investment, which will strengthen the UAE?s industrial supply chain by providing 50,000 metric tonnes per annum of aluminium rod, and 16,000 metric tonnes per annum of overhead conductors.
The new manufacturing facility marks several strong partnerships. The first, the one between Abu Dhabi and Dubai, the parents of shareholders Senaat and ICD who in turn were inspired to partner as joint owners of Ducab. Further leveraging the power that comes with partnerships, Ducab and Senaat partnered again to form Ducab Aluminium Company.
Eng. Jamal Salem Al Dhaheri, chairman of Ducab and CEO of Senaat, and also the chairman of Ducab Aluminium Company, said, ?The launch of Ducab Aluminium Company extends the UAE?s industrial capabilities and addresses the growing aluminium market globally. DAC has signed a long-term partnership with its neighbour EGA for the supply of molten aluminium to the facility along KIZAD?s ?Hot Metal Road?. With this special partnership with EGA, we are now positioned to offer tailored products for the electrical supply chain, optimising local resources in line with the Abu Dhabi Economic Vision 2030. Moreover, the new company will substitute substantial imports of aluminium rods and overhead lines into the UAE, and help build a competitive edge for ?Made in the UAE? industrial products.?
With its capacity capabilities, DAC will contribute to a lowered reliance upon imported aluminium products, driving a more sustainable ?Made in the UAE? supply chain with products that can be tailored to the needs of the country?s diverse vertical industries. Raw material will be obtained from Emirates Global Aluminium?s Al Taweelah site, which provides a reliable, sustainable source of ISO9001 certified aluminium, delivered to DAC.
The electrical conductive grade aluminium and aluminium alloy rods, wires, and bare overhead conductors manufactured at DAC will complement Ducab?s existing portfolio of products. With a wide range of cabling and accessories tailored to meet specific requirements ? such as fire performance cables, Ducab FlamBICC or Ducab PetroBICC for the oil, gas and petrochemicals industry ? Ducab has established itself as a leader in the development, design, manufacture, marketing and distribution of copper and aluminium wire and cable products.
Stand No: H8.E10