At Middle East Electricity (MEE) 2018, John Deere Power Systems (JDPS) will unveil its new ultra-compact 60kVA (prime) generator drive range aimed at non-emissions regulated markets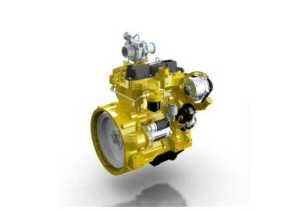 This product is the latest release as JDPS continues the revamp of its line up non-regulated generator drive engines. (Image source: JDPS)
The product delivers a full 61kWm, meaning that typical standby ratings can reach 65kVA, all this whilst achieving an impressive 23 per cent improvement in power density over the previous model covering this node.
The advantage to the OEM and end users alike is clear: a smaller engine can lead to a smaller canopy and lower shipping costs. Despite the significant leap ahead in power density, the product is designed to the company?s rigorous product verification and validation standards.
This latest product is the latest release as JDPS continues the revamp of its line up of non-regulated generator drive engines.
As an entirely independent engine manufacturer of diesel driven power generation engines, JDPS offers OEMs unbiased engine expertise and a complete range of products from 30 to 630kVA that meet most worldwide emissions regulations ? from non-regulated engines to EU Stage III A and EPA Final Tier 4.
With the John Deere extensive worldwide service network, end users never have far to go to find expert assistance: more than 4,000 service locations worldwide provide customer support when and where it is needed.
John Deere Power Systems manufactures and markets 30kW to 448kW (40hp to 600hp) industrial diesel engines and 56kW to 559kW (75hp to 750hp) marine diesel engines, as well as drivetrain components for use in a variety of off-highway applications.
Stand No: S2.C30