Anita Mathews, group director ? industrial portfolio at Informa Exhibitions, has talked about technology, innovation and future of energy with Technical Review Middle East at the onset of Middle East Electricity, to be held from 6 ? 8 March 2018 in Dubai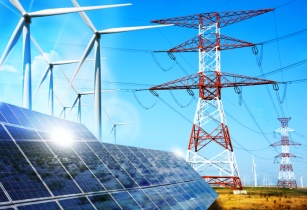 The region?s leading energy event, Middle East Electricity, will take place from 6-8 March in Dubai. (Image source: adrian_ilie825/Adobe Stock)
Technical Review Middle East (TRME): Middle East Electricity has been forefront of pushing both traditional grid and renewable energy projects in the region. What prompted Informa to launch Global Smart Energy Summit this year?
Anita Mathews (AM): Middle East Electricity (MEE) is the region?s leading annual international trade event for the power industry, and is now in its 43rd year featuring over 1,500 exhibitors from 66 countries, supported by 23 dedicated national pavilions. Every year the show evolves to meet changing demands of the sector, and, coupled with this region?s pioneering approach towards adopting new technologies, the introduction of Gulf Smart Energy Summit (GSES) was a natural progression.
GSES runs alongside MEE at Dubai World Trade Centre (DWTC) from 6-8 March 2018 and, as a high-level summit, it aligns impeccably with the objectives of MEE. GSES will feature some of the biggest corporate champions in the global transformation to smart energy, including Jeffrey Brian Straubel, co-founder and chief technical officer, Tesla Inc and Board Member of the transformative SolarCity; Andy Karsner, former assistant secretary for Energy Efficiency at the US Department of Energy, who led the implementation of the Twenty-In-Ten Advanced Energy Initiative and internationally-acclaimed Big Data guru Kirk Borne, the astrophysicist and data scientist who for two decades supported NASA projects including the Hubble Space Telescope research phenomenon
With more than 140 local and international high-profile speakers delivering 100-plus content sessions across four tracks, the summit will lay out the future of global smart energy transformation and is expected to attract more than 700 attendees exploring reform patterns across the entire power spectrum.
The summit will host scientific and innovation pioneers of international relations, space, industrial and power sectors from 28 countries exploring the technology and processes that will transform the way we live and work.
TRME: What support are you expecting from the local government to push your smart energy agenda in the MEE platform?
AM: From the technology driving innovation, to the future of energy storage and the needs of smart cities ? smart energy is now being pursued worldwide. As the regional leader in renewables with a resounding commitment to clean energy the UAE government fully supports MEE. The Dubai Clean Energy Strategy 2050 states clearly the emirate?s intention for seven per cent of its total power output to come from clean energy by 2020, 25 per cent by 2030 and 75 per cent by 2050.
The summit will open with a keynote address ? ?The State of Energy: Balancing Growth through Smart and Sustainable Energy Sources to Drive Long-Term Competitive Advantage? ? from the UAE?s Ministry of Energy & Industry
GSES will also feature dedicated, country-focus sessions looking individually at the opportunities and challenges of developing usable renewables and meeting national power programmes in seven Middle Eastern countries ? the UAE, Saudi Arabia, Bahrain, Oman, Jordan, Egypt and Kuwait.
Addressing these key sessions are luminaries such as Her Excellency Fatima Mohammed Al Shamsi, assistant under secretary for electricity and future energy at the UAE Ministry of Energy & Industry; Eng. Ziad Jebril Sabra, assistant secretary general, Jordan Ministry of Energy and Mineral Resources; Dr Ayad Y. Aldaijy, advisor and chief information officer for Saudi Arabia?s Ministry of Environment, Water and Agriculture; Tamer Farid Hejazi, director, technical minister?s office at the Ministry of Electricity and Energy, Egypt; and Engin. Suhaila Marafi, director, department of studies and research, at the Kuwait Ministry of Electricity and Water.
TRME: What are the other highlights at Middle East Electricity 2018?
AM: Under our key theme ?Energising the Industry?, the event services the shifting dynamics of the regional sector by bringing together the most comprehensive group of local, regional and international manufacturers in the power sector to demonstrate and debate the latest technologies transforming industry practices.
This year sees the inclusion of the Energy Storage & Management Solutions sector as a new segment in addition to the Transmission & Distribution, Power Generation and Lighting stalwarts, as well as Solar, which joins the MEE fold as a dedicated sector after six years as a co-located event.
Most of the leading manufacturers including Perkins, Cummins, SDMO-Kohler, Al Fanar, Ducab, Siemens, ABB, Eaton and Lucy Electric will have a major presence at the show this year.
TRME: Are there any plans to add value to the event by diversifying further in the future?
We strive to consistently evolve the event to reflect and meet the needs of the region?s energy industry. The GCC Power Market report, produced for Middle East Electricity by Ventures Onsite, states that over the next five years the GCC requires a combined US US$131bn worth of investment in electricity generation, transmission and distribution to cope with increasing demand from growing populations, expanding economies and climatic changes.
The report adds that much of the investment is likely to come from public private partnerships(PPP) if a regulatory framework is introduced to incentivise independent power producers(IPP).
Consequently, we have a variety of panel discussions and speeches on the topic at GSES to learn more about GCC?s focus on energy policy, frameworks and PPPs. Similarly, in the future we will include tracks in our conferences to address topical themes.