Al Masaood?s Power Division is participating in Middle East Electricity (MEE) 2019 to showcase its diesel engines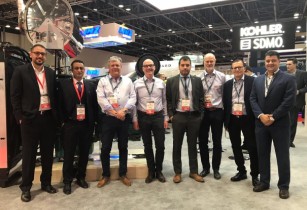 Al Masaood Power Division exhibits with Volvo Penta Sweden to display latest advanced Diesel Engines. (Image source: Al Masaood)
The event, which runs until 7 March, is held at the Dubai World Trade Centre.
The division is exhibiting with its partner Volvo Penta Sweden and showcases the following engines within the power generation segment:
-Volvo Penta TWD1683GE ? fully equipped with a six-cylinder diesel engine and block, lubrication system, fuel system, cooling system, turbocharger, electrical system and exhausts after-treatment system
-Volvo Penta TAD734GE ? one of the most practical and popular engines designed by Volvo Penta, this engine is an inline six cylinder, 7.2 litres, six hole fuel injector diesel genset with turbo and air-cooled exhaust manifold.
These engines are dual speed engines, with dual American and European emission certificates capable of producing 50 Hz/1500 rpm and 60 Hz/1800 rpm for prime and standby power generation.
Rasso Bartenschlager, general manager at Al Masaood Power Division, said, ?Al Masaood has been the UAE distributor for Volvo Penta Sweden since 1972 and we are proud to once again be exhibiting with one of the leading global internal combustion engine manufacturers at this special event. Our strategic ambition is to reinforce Volvo Penta as a key market player.?
?We are dedicated to ensuring customer satisfaction and success of their businesses. Our ultimate mission is to be the leader in sustainable power solution and we look forward to interacting with new and existing clients and customers throughout MEE 2019,? he added.
MEE 2019 offers exhibitors access to thousands of potential customers from across the Middle East, Africa and around the world. This year?s exhibition focuses on breakthroughs in the generation, distribution, storage and use of power to meet domestic needs and international requirements while aiming to discover the thousands of power products and innovative technologies that energise the industry.
Stand S2.E39