On-site power producer Cummins Inc. will launch the HSK78G natural gas generator series during Middle East Electricity (MEE) at the Dubai World Trade Centre that will take place from 5?7 March 2019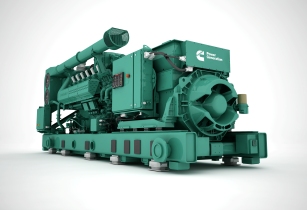 The HSK78 engine will be seen for the first time at MEE 2019 in Dubai. (Image source: Cummins)
Fuelling the next generation of power, the series offers a total package of gas generator capabilities and innovative gas technology for prime and peaking power applications.
With a power density of up to 2MW from a 78L engine, the HSK78G generator series is designed to provide reliable power, regardless of the natural gas source or the climate, including extreme heat up to a blistering 55?C, ideal for the Middle East region, and extreme altitudes. This new technology represents a bold step into the gas arena for Cummins that pushes new levels of efficiency, transient performance and gas variation well beyond former natural gas generators.
Craig Wilkins, director of Cummins prime power segment and global sales support, said, ?The HSK78G models are suitable for a diverse set of industries from mining and manufacturing to shopping malls and hospitals. The new generator series has been designed to push the boundaries of performance to extremes while achieving a low total cost of ownership. High electrical efficiency of up to 44.2 per cent (50Hz) and 43.5 per cent (60Hz) is achieved on a wide range of pipeline natural gas down to 70 methane number (MN) without impacting power output and efficiency.
?In addition, the barrier?breaking fuel flexibility of the HSK78G enables the utilisation of low?cost, low?BTU and free fuel sources, which would otherwise be considered waste products, delivering robust power even with very aggressive fuels with minimal derating.?
Alongside the physical HSK78 engine showcased on the stand, an interactive touchscreen will be available, allowing visitors to explore the complete HSK78 generator model in 360?degree mode while learning more about the key features and benefits of this new series.
To complement this display, visitors will be able to step into the HSK78G Experience Pod room, which will take them through a journey of different extreme and urban environments from blistering hot deserts to cityscape settings to highlight the extreme capability of the HSK78G series.
The C2250D5 cut?away generator set will also be at the stand, available at 2250kVA and powered by the heavy?duty Cummins diesel QSK60 HPI engine. This model delivers reliable power and fast response to load changes, making it an ideal choice for the commercial and industrial and data centre markets.
The new 4BTAA3.3?G14 Coolpac generator set, the latest addition to the Cummins medium?duty B3.3 engine series. The Coolpac package performs well under severe duty cycle applications and has environmentally friendly exhaust emissions, 50?C cooling capability, low noise and high?power output per litre for best in class reliability.
Cummins is also displaying the digital master control (DMC) 8000 remote monitoring simulator, a fully automatic, distributed logic controller suitable for remote applications, making it easier for users to integrate and adapt their varying power needs. With available remote access and monitoring, users can securely access the control system and view up to 90 days of data logging at anytime, anywhere.
Alongside the DMC display, the Cummins load control module (LCM) will be showcased, a load management controller, regulating loads on standby generators to maximise their power potential via a smart and cost?effective package deal for the light commercial building industry. On stand visitors will be able to experience a simulation in real?time of how all system components are monitored.
Stand No: S3.D30