From 5-7 March at the MEE 2019, John Deere Power Systems (JDPS) will showcase various power nodes from its updated range of non?regulated generator drive engines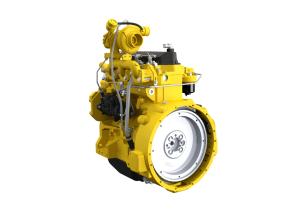 New John Deere downsized engines deliver impressive power density in a compact design. (Image source: John Deere Power Systems)
The extended range provides OEMs greater freedom in machine design and end?users reliable engines at an optimised total cost of ownership.
Updated non?certified engine range offers broad choice
A trusted partner for generator set OEMs worldwide, JDPS offers bare engines and power units for a wide range of applications. The updated range of non?certified engines now covers all recognised power nodes from 30 to 500kVA, with displacements of 2.9L through 13.6L.
New features include dual frequency (50Hz and 60Hz), longer maintenance intervals and single?side service access.
?We specifically revamped this range to meet our OEM customers? strategic and commercial requirements,? said Sandrine Couasnon, manager, marketing services and sales engineering for Europe, Africa and the Middle East at JDPS.
Updating the range involved downsizing various power nodes, allowing generator set manufacturers to use smaller canopy sizes. The downsized engines deliver impressive power density in a compact design. This is true for the 60kVA node moving from a four-cylinder 4.5L to a three?cylinder 2.9L and the 120kVA, which was downsized from six?cylinder/6.8L to four? cylinder/4.5L. Both engines will be on display at the MEE.
Stage V?ready engines: Innovating to drive the EU market
JDPS?s ongoing dedication to the generator set market is reflected in its advanced emissions technologies for previous tiers, which provide a proven foundation for its Stage V?ready engines. The company?s range of generator drive engines with ratings of 36 to more than 500kW meets worldwide emissions regulations while delivering quick?starting, clean?running, and fuel-efficient performance. OEM customers can rely on JDPS support as they move into the next emissions stage.
?Like the non?certified range, the Stage V? ready engines offer end?users reliable operation even in the most extreme conditions, long engine life and exceptional fuel economy,? added Patrick Thil, manager OEM engine sales EAME, Asia and Australia. ?OEMs benefit from design flexibility and low cost of operations, helping them to stay competitive,? Thil mentioned. The Stage V technologies used on these engines are built upon years of engine and application engineering expertise. As both an engine and machine manufacturer, John Deere boasts one billion hours of global experience with diesel particulate filter technologies.
Stage V aftertreatment technologies from John Deere are optimised for flexible integration and several offers reduced packaging and weight from previous Stage IV solutions. And because the technologies are built on the same engine platform as current Stage IV solutions, the need for OEMs to re?engineer due to hardware or mounting changes is reduced.
Stand S2.C30