Marelli Motori will showcase its state-of-the-art alternators and AVRs during Middle East Electricity (MEE) in Dubai from 5-7 March 2019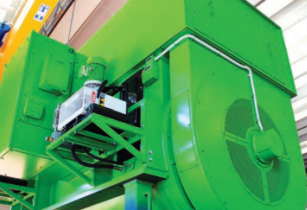 Marelli Motori?s alternator is installed in the Al?Zour Refinery project in Kuwait. (Image source: Marelli Motori)
Marelli Motori recently announced that its alternators will grant 50MW emergency power to the new Al?Zour Refinery in Kuwait.
Two joint ventures led by Fluor and Hyundai have been selected for executing major EPC activities related to the construction of the new Al Zour Refinery, a new world?class grassroots refinery, designed to produce low sulfur fuel oil by processing up to 615,000 barrels of light and heavy crude oil per day.
The refinery is located 90km south of Kuwait City and, once completed in May 2019, it will be one of the largest refineries in the world.
In 2017, Intergen has won the contract to provide emergency power to the refinery through the installation of 22 diesel generator sets that will go into operation by the end of 2019. The complete system counts 20 x 3,000kVA and 2 x 1,000kVA gensets delivering a total of 50MW of emergency back?up power.
Intergen, well?known for its excellent reputation in complex oil and gas installations, have selected Marelli Motori for the supply of high voltage alternators.
Marelli Motori, a world?class alternator and electric motor manufacturer, is headquartered in Arzignano (Italy) with facilities, extended sales, distribution and service networks across four continents.
Marelli Motori is also officially listed in the Kuwait National Petroleum Company (KNPC) vendor list and can, therefore, bid and successfully win projects within the Middle East.
For the Al?Zour project, Marelli Motori has supplied MJHV 710 and MJHV 500 alternator models to pair with GE and Cummins engines, respectively.
Some of the key elements, which make Marelli Motori stand out in the energy business market, are the extensive experience in HV coil technology and expert use of innovative and sophisticated software tools (Ansys) for carrying out multiphysics simulations that guarantee a proven optimal design that best combines optimal structural integrity with cost reduction.
When using large frame products, vibrations from the diesel engine could strongly excite natural frequencies and harmonic responses of the system. Therefore the use of modal analysis through advanced R&D tools is crucial to make sure that the dynamic behaviour of the alternator is analysed and reliability of the machine is guaranteed according to the actual operating conditions. Structural and dynamic simulations ensure that optimal design is achieved. In addition, the thermo?fluid dynamic analysis also helps to increase the cooling efficiency and thermal exchange of the core components with the surroundings by optimising the air flow through the machine. This is a crucial aspect in the air to air-cooled machines like those designed for the Al?Zour project.
A very specific experience in designing and manufacturing high voltage electrical machines (6,600V) with form wound technology is a reference that very few players have and this Marelli Motori continues to develop with state?of?the?art HV winding and impregnation equipment, coupled with a new automated department for coil manufacturing and insulation.
All the Al?Zour alternators also come fitted with anti?condensation heaters, tropicalisation treatment for resistance to temperatures up to 50?C, customised supports, separated terminal boxes for main phases, neutral point and auxiliaries to reduce vibrations, transformers for connecting to the customer?s monitoring system and totally integrated lube oil systems.
?We rely on Marelli Motori as they always deliver high?end technology and experience to help maintain our leadership position in complex projects especially in oil and gas remote locations where clients require reliable equipment, technical support and continuous teamwork,? says Enrico Ragni, sales area manager, gensets and power plants, Intergen SpA.
The Al?Zour refinery is operated by KIPIC, a subsidiary of the Kuwait Petroleum Corporation, and the contract has been awarded to FDH, a JV of Fluor in partnership with Daewoo Construction & Engineering and Hyundai Heavy Industries.
Stand No: S2.D40