Perkins is offering a complete range of EU Stage V engines designed to deliver efficient and reliable power for the European mobile generator set market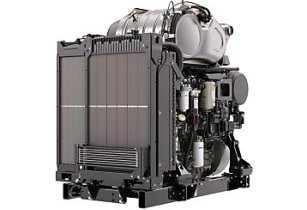 EU Stage V electric power engine range is designed to ideally suit to a range of mobile electric power (EP) applications including light towers and rental equipment. (Image source: Perkins)
The full engine range will cover Perkins 0.5-18L products, deliver a powerful 4-560 kVA and is designed to ideally suit to a range of mobile electric power (EP) applications including light towers and rental equipment.
The first Perkins Stage V engines will be available early this year, with further products being rolled out over the next two years in line with the phased introduction of EU emission standards for mobile generator sets. The range is being built in Peterborough, UK; Seguin, Texas, USA; and Wuxi, China.
Jaz Gill, vice-president of global sales, marketing, service and parts at Perkins said, ?As a leading engine provider in the EP market, we have the deep expertise and flexibility to meet individual customer requirements, ensuring our customers get the value and performance they need from their engine choice.
?We have made a significant investment across our Stage V engine range to provide power-dense and efficient engines, ensuring low consumption of diesel exhaust fluid (DEF). Our extensive experience with the aftertreatment technologies that these engines require means customers can be confident they are selecting a reliable and efficient solution, which is simple to maintain while meeting the latest emissions standards.?
Karan Ohri, EP product marketing manager, added, ?The new Stage V emission standards, which apply to the European mobile generator set market, are a step change for a sector, which has been adhering to Stage IIIA standards for more than a decade. Generator set packagers have, therefore, had very limited exposure to the aftertreatment technologies, which must be fitted to the engines to ensure the new Stage V standards are met.
?At Perkins, we have been using these technologies for many years, and have the expertise to identify the best and most appropriate technology solution for each power node. Our collaborative approach means our engineering teams work closely with our customers to integrate the engine into their generator set to deliver optimum performance and ease of maintenance.?
The latest generation of Perkins Stage V EP engines have been designed to meet customers? vital requirements regarding space constraints and simple, reliable and compact technology solutions with minimum connections.
Business development engineer James Reed, who works with customers to identify new ways to make their equipment ever more competitive, stated, ?Our EP customers asked for compact and efficient aftertreatment systems to fit into a constrained space and ensure low DEF consumption, which is what we?ve delivered. They also requested a simple solution, so our engine mounted aftertreatment (EMAT) offers an easy way to install the engine in their generator set. It truly is a plug and play solution.
?Given where these generator sets are used, reliability is paramount. We have undertaken a significant research and development programme to optimise the system, ensuring we deliver the reliability our customers demand. We?ve used all these technologies for more than a decade, so it is proven, for example, that our diesel particulate filters can run on very light loads.?
He continued that Perkins? product offering, collaborative approach and ongoing global service and support has already seen them win new EP business at Stage V. ?We?re focused on working closely with our EP customers to give them the best overall Stage V offering in the market place.?
Stand No: S1.C10