Measurements of power line insulation resistance are an uncharted area of inspections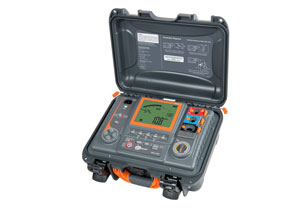 Sonel S.A. is a manufacturer of high?quality measuring instruments for power generation and telecommunications sectors. (Image source: Sonel)
The standard is the measurement of longitudinal parameters (positive sequence impedance, zero sequence impedance, self impedance of phase conductor and earth loop resistance). However, insulation resistance is not measured. Furthermore, there are no standards or guidelines specifying the minimum values of insulation resistance, test voltage or measurement time.
Sonel found this topic worth investigating. Here are the results of the research.
What did they test?
Thanks to TAURON Dystrybucja S.A., Sonel had the opportunity to examine a power line with a rated voltage of 400 kV. It runs between the towns of Jasieniec and Grudzi?dz (Poland) at a distance of 73.6 km. It has 195 pieces of E33U, E33spec and EA33 type power line towers, supported on prefabricated, monolithic and pile foundations.
How did they measure?
The tested line was ungrounded and unpowered. The MIC­15k1 insulation quality analyser was connected using an additional coupler line. The test voltage was 15 kV.
Due to compliance with safety standards, the device control like measurement monitoring, start and stop was carried out remotely ­ from a mobile phone using the free Sonel MIC Mobile 2.0 mobile remote control application. In result, they obtained following values for L1, L2 and L3 lines: 234 M?, 220 M?, and 240 M?. On the other hand, the calculated resistance value was 805 M?.
Results interpretation
-The strongly simplified overhead line model was used for the calculations. It does not include many variables, such as power line properties, resistance of insulators and the impact of dirt on their surface.
-Approximate value of air conductivity around the line was assumed. Actual conductivity depends on parameters such as radiation, air pollution or atmospheric conditions.
-In order to obtain a more accurate theoretical analysis, one would have to precisely map the line in question and create its numerical model.
Challenges for the future
As mentioned at the beginning, the test area for insulation resistance of overhead power lines is not covered by any standards. There is no minimum insulation resistance values. There is no define measuring voltages. There is no data on the recommended measurement time. What values should be expected? How to determine them? How to measure insulation resistance of the whole overhead line?
If you have had contact with insulation resistance measurements of medium and high voltage overhead lines,­ please contact Sonel to compare experiences.
Hall No. 4, Stand No. B 39