Rittal Middle East (a subsidiary of Rittal GmbH & Co. KG), a renowned leading system supplier for industrial enclosures, power distribution, climate control, IT infrastructure and software & services, is showcasing their portfolio of innovative products at Middle East Energy 2020
At the company?s Innovations Stand, Joseph Najjar, managing director, Rittal Middle East and Bharat Mahajan, sales manager, business ­ industry, Rittal Middle East will be at hand to take visitors through the highlights including:
? New large enclosure series VX25 and variants
? Middle East premiere of new compact and small enclosures designed for the age of Industry 4.0 (AX. KX)
? New Ri4Power solution based on VX25
? New Integrated solution of VX25 with Blue E+ roof mount cooling
? Software tools and configuration tools
? New showcase this year will be along with EPLAN : Value chain engineering solutions helping panel builders and switchgear manufacturers master the challenges of Industry 4.0
?This year?s rebranded Middle East Energy show will offer more value from its previous editions and 2020 being a strategic year for all sectors in the region will make our participation even more worthwhile and the MEE platform a highly recognised platform worldwide,? said Joseph Najjar.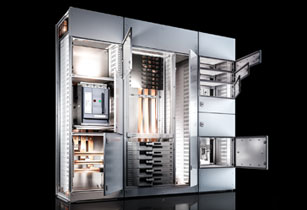 Rittal solutions have been developed to meet the requirements for increased productivity in control and switchgear manufacturing and along the Industry 4.0 value chains. With the ?SYSTEM PERFECTION? slogan, Rittal is promising a major innovative leap, which has been made possible by depth of experience and intensive customer dialogue. Other portfolio on showcase includes the enclosure for Ri4Power (low voltage) based on the New VX25, RiLine components complying to global standards and certifications along with Ri4Power (Form­4, Type Tested MCC?s Acc. to IEC 947), SE enclosures, cooling units with ?Blue­E+? technology with low carbon emissions and more in store.
From the planning, project management and configuration of switchgear and control gear, through to the monitoring of IT infrastructures, Rittal offers a wide range of intelligent tools to help achieve optimum implementation. Channel partners, consultants and end customers are welcome to drop by the Rittal stand to witness the latest innovations on industrial and electrical products and network with our experts.
Stand No: Hall 5, Stand 5D10