The Arab Academy for Science Technology and Maritime Transport in Sharjah (AASTS) has started implementing e-learning for the second semester in the College of Maritime Transport Technology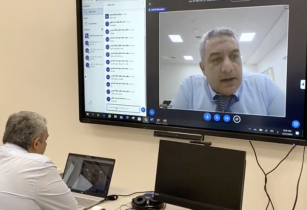 E-learning experience at AASTS. (Image source: AASTS)
Faculty members were trained on giving e-lectures as well as providing the necessary support to students. More than 100 students attended the online lectures on the first day, where the interactive educational process went smoothly.
Dr Ismail Abdel Ghaffar Ismail Faraj, president of the Arab Academy for Science, Technology and Maritime Transport, highlighted, ? The UAE has succeeded in implementing the "distance learning" initiative in all educational institutions to ensure the continuity of education for all local students and residents which makes it a true role model by exploring the future for years.?
?Accordingly, we have intensified all our efforts and preparations to apply our e-learning system smoothly aiming to enhance the safety of our students and faculty members, and in line with the instructions for prevention of COVID-19 dangers.?
He further added, ?Our academic staff was involved in a two-day preliminary training last week to ensure efficient communication between faculty members and students. Our students will benefit from the new system in terms of providing theoretical and applied lectures and laboratories via electronic platforms and customised programmes, providing electronic learning resources and developing educational materials.?
Major pillars for systemic mechanisms
Dr Hisham Afifi, sdvisor to the president of the academy and in charge of Khorfakkan's branch, emphasised, ?We look forward to building a true partnership between the National academic sector and the maritime industry. This will contribute to research and development and prepare technical and administrative studies to help companies achieve further growth and expansion in product quality and business profitability.?
?The education sector comes as the main supporter of this initiative, especially in the maritime field, which is one of the most important pillars of the country's future sustainable economy.?
He explained, ?Our e-learning platform will introduce the curriculum to all students in an interactive way that reflects day-day college study. Although students are present in their homes, they will be given opportunities for quality and appropriate education through our platform that approved by the UAE Ministry of Education, which provides educational content in an integrated manner, and supports alternative solutions for the continuity of the educational process.?
Dr Ahmed Youssef, associate dean of the College of Maritime Transport Technology, AASTS, said, ?Since the beginning of the current emergency, we have properly communicated with all our students and their parents, and we have also sent informative guidelines on implementing our new platform in the context of emphasising our efforts to ensure safety of our students and guaranteeing that they are ready to start using the new system.?
According to him, ?AASTS succeeded in registering more than 38 to join the second semester, bringing the total number of students to 125. The Academy offers two specialisations in the first phase: Maritime Transport Technology, which has two disciplines; port operations and offshore operations. The major will qualify graduates with a bachelor degree and a second mate certificate of competency. The Department of Marine Engineering will qualify students with a bachelor degree and third engineer certificate of competency. Both disciplines qualify graduates to work on commercial ships and offshore vessels.?