ICT spending in Saudi Arabia is expected to reach almost US$36bn in 2016 as organisations across the Kingdom have started to embrace digital transformation initiatives in an effort to optimise costs and improve business process efficiencies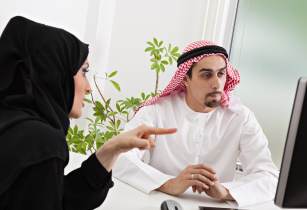 Cloud services are also playing a vital role in Saudi Arabia?s digital transformation journey, with more than a third of organisations already investing in them. (Image source: zeljkodan/Shutterstock)
IDC explained that IT security is becoming a key component of digital transformation strategies in Saudi Arabia, with a growing number of organisations looking to implement various advanced and predictive IT security solutions such as multifactor authentication and access management, real-time policy enforcement, and analytics-based monitoring, Arab News reported.
IDC also predicted that spending on IT security software in Saudi Arabia will grow 12 per cent year on year in 2016 to total US$96mn, with the evolving cyber threat landscape and the proliferation of third platform technologies fuelling concerns around data privacy and driving demand for security services.
Abdulaziz Al-Helayyil, IDC?s regional director for Saudi Arabia, Kuwait and Bahrain, said, ?Saudi Arabia?s ICT market is highly competitive, and only the most progressive service providers with strong capabilities around emerging technologies will continue to grow.
?In a bid to optimise their costs and increase their levels of operational efficiency, organisations are increasingly investing in transformative business initiatives, using technology to support this transition.?
While third platform technologies such as mobility, cloud, big data analytics and social business are finding increasing traction in Saudi Arabia, macroeconomic factors such as low oil prices and regional instability are expected to slow the strong growth rates that the Kingdom?s ICT market has become accustomed to over the last few years.
?As such, we have adjusted our ICT market forecast for 2016 down from US$36.7bn to US$35.9bn, which represents a more modest-than-usual growth rate of 3.8 per cent year on year,? he added.
According to IDC?s FutureScape Predictions, the public cloud market in Saudi Arabia will grow 44.5 per cent year on year in 2016 to total US$63mn as an increasing number of end-user organisations migrate non-core workloads such as productivity and team collaboration, sales and marketing, and human capital management to the cloud.
Hamza Naqshbandi, senior research manager for IT services at IDC Middle East, Africa, and Turkey, said, ?Skills shortages and the growing complexity of operating and maintaining IT infrastructure are both encouraging business leaders to consider remotely delivered services such as cloud as a viable cost-effective alternative.?
?As the largest IT market in the region and still relatively unsaturated when it comes to cloud services, Saudi Arabia represents a considerable revenue opportunity for local, regional, and global service providers, as a growing number of end users will turn to cloud services to optimize their IT operations, both from a cost and efficiency perspective,? Naqshbandi added.