The digitalisation of the industrial world is upon us ? and it is moving quickly, said Craig Hayman, CEO of AVEVA, at the AVEVA World Summit in Singapore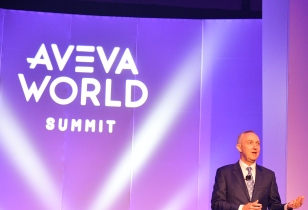 Clive Hayman, CEO of AVEVA, at the AVEVA World Summit in Singapore.
According to reports, the Industrial Internet of Things (IIOT) will grow by 20 per cent every year over the next five years, Hayman noted.
?Cheap access to cloud computing, great interconnectivity between IT and OT, a merged edge and enterprise combined with analytics and machine learning, means that the ability to digitally drive productivity improvements into the industrial world is now unprecedented.
?It?s never been easier to begin a digital transformation. But transforming that into a lasting transformation across a global organisation has never been harder.?
Hayman outlined three steps to accelerate the digital transformation journey:
?First, snap into your system a unified operating centre so you can visualise the data you already have and bring it to life.
?Second, use this data to free up opex or operating budget. Take an operating asset, for example a pump, compressor or turbine, or something more complex, and use as much historical and real-time data as you have to build a knowledge graph of this asset.
?Use machine learning and AI to predict when it will fail before it fails. We call this Asset Performance Management ? APM ? and it?s a hot area that has moved quickly, with a lot of innovation. Data lakes can now be used, and false positives, that were a problem before, have been dramatically reduced.
?Once you have covered one asset class, then you can work to scale more assets, moving across the entire operation?s lifecycle.
?Third, use your data to take this risk out of your organisations. Bring simulations into engineering design, use the cloud to eliminate legacy workflows and to be sure you are using your facilities for maximum gain. Simulate the planning, simulate the scheduling and the distribution of your supply chain across thousands of scenarios instantly. And use this data to increase collaboration within your company and make quick, fact-based decisions.
?These are our three lessons to move from digital technology, to digital twin, to digital team.?
The AVEVAWorld Summit, held from 16-18 September in Singapore, provided a forum for industrial leaders from around the world to share their insights and experiences of digital transformation.
AVEVA, a global leader in engineering and industrial software, announced at the event a new release of its integrated engineering software, AVEVA 4.0 Unified Engineering, which transforms the way capital projects are engineered and executed while integrating them into the operations and maintenance lifecycle.