A first in the GCC region, AW Rostamani Shift Car Rental will pioneer the leasing and renting of electric cars with the cutting edge Renault Zoe that offers a 300km run on a single charge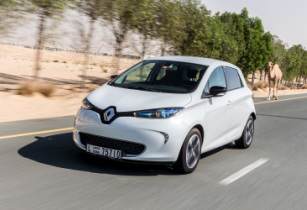 Renault Zoe cars from AW Rostamani.
As a result of the recent Paris Agreement on Climate Change and the UAE?s vision for a green economy, the move sees AW Rostamani driving change in dealing with greenhouse gas emission which currently adds to @403.3 parts per million, the highest ever.
Commenting on the move, Ashish Nanda, senior general manager, Shift Car Rental said, ?The Shift Green initiative is a testimony to our core values and philosophy. We believe that it should be the duty of all responsible organisations and individuals to play their part in fighting climate change. As the first in the region, we hope this initiative involving the Renault Zoe electric cars will be welcomed by all key stakeholders including government and semi government entities.?
AW Rostamani Car Rental is now playing a key role in helping the UAE achieve its vision in becoming a Green Economy for Sustainable Development by 2021.
The AW Rostamani Shift Green initiative is just the beginning of more responsible initiatives that will eventually empower end consumers with the wisdom and inspiration to make cautious choices in the pursuit of more sustainable outcomes.
To ensure adaptability while offering a seamless customer experience, AW Rostamani Shift Car Rental is putting together highly incentivised offers on the leasing/renting of its Renault Zoe electric cars. The Renault Zoe range of electric cars provide the opportunity for a significant and unprecedented shift for the future.