Central Motors and Equipment (CM&E) has announced the addition of TAURUS tyres to its extensive portfolio of high-quality automotive products and parts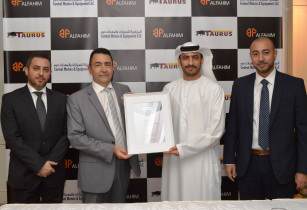 Central Motors & Equipment (CM&E) offers a diverse range of products and services to the UAE?s retail and wholesale markets with its own outlets in Abu Dhabi, Al Ain, Dubai and Sharjah. (Image source: ALFAHIM)
CM&E, an automotive member of ALFAHIM, will offer the established European tyre-maker?s products to private motorists, company fleets and transport firms across Abu Dhabi and the UAE.
The addition of TAURUS tyres to its inventory is part of CM&E?s commitment to providing its customers with every option, from premium brands such as MICHELIN to affordable alternatives. Moreover, the premium features and attractive pricing of TAURUS tyres means even more motorists will be able to experience CM&E?s award-winning levels of service.
Based in Hungary, TAURUS has been making budget-friendly, high-quality tyres for more than a century. Its products meet strict European Union and regional quality regulations, combined with ultra-modern technologies and innovation.
Oussama Jlailati, Michelin brand manager of CM&E, said, ?CM&E prides itself on being able to meet the priorities of its diverse clientele. We operate in a fast-paced and demanding auto market; hence, it is important to provide a range of options and products that suit a variety of needs. TAURUS tyres will allow us to further extend the range of high-quality automotive products we offer to our customers.?
Eric Savarit, business development manager at TAURUS Middle East, added, ?We are delighted to partner with CM&E to bring our range of affordable high-performance and ultra-high-performance TAURUS tyres for passenger cars to the UAE market. The tyres are accessible to the budget-conscious driver while delivering safety, reliability and high performance. CM&E has a long history of excellence in the automotive industry and we look forward to working with its extensive network of customers and clients.?
As the official distributor of MICHELIN tyres in Abu Dhabi, CM&E has been supplying motorists in the capital with the highest standards of service and best-in-class automotive parts for more than 30 years.