UD Trucks has recorded approximately 30% sales growth in the Middle East, East and North Africa (MEENA) region in 2021, continuing an upwards trend for the brand, which had experienced 6% growth in the previous year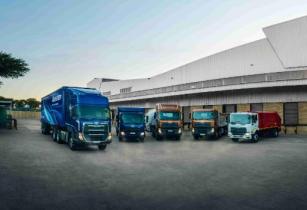 Saudi Arabia remains UD Trucks? biggest market in the region. (Image source: UD Trucks)
The Japanese commercial vehicle manufacturer recorded an increase in sales in most markets, including Saudi Arabia, the UAE, Qatar, Pakistan and a number of countries in East Africa.
UD Trucks? flagship market, Bahrain, saw an increase of around 40%, reinforcing the brand?s number one status in the country. The trucks brand also saw an increase in sales by about 30% in Qatar. Sales also grew in Saudi Arabia, which is UD Trucks? biggest market by volume, by 24%. The United Arab Emirates, which hosted the regional launch of the brand?s Euro 5 models, registered an increase of 22% compared to 2020.
Outside the Middle East, UD Trucks earned positive traction in Pakistan where it enjoyed an impressive year. Similarly, the brand registered significant growth in East Africa in 2021, where a number of strategic deals for both heavy-duty and medium-duty trucks were signed off, despite the challenging business climate.
The growth came as a result of a fantastic collaboration and coordinated effort by UD Trucks and its partners throughout the region and their joint focus on supporting UD customers. The brand?s well-built and robust products, the introduction of the Euro 5 range and upgrades to the Euro 3 line-up, a strong retail network and partnerships, and the impact of its ?Better Life? strategy, have all played significant roles in the company?s success.
UD Trucks? widest-ever range, which covers almost all segments in the heavy-duty and medium-duty truck sector, and the nature of the brand?s product portfolio have also been crucial factors in this growth. The range has been developed to meet the market?s needs by covering all key segments in the industry. UD Trucks? focus of launching new trucks that will enhance profitability for customers by lowering the total cost of ownership has also been crucial.
Mourad Hedna, president of UD Trucks MEENA, commented, ?The resilience our brand showed in 2020, built around a consistent and comprehensive strategy and supported by our strong regional partners, provided a solid platform for us to build on in 2021. Registering about a 30% sales increase in one year is a remarkable feat.?