The Dubai Airport Freezone Authority (DAFZA) met with a delegation from the Business Council to discuss how Spanish companies can benefit from the free zone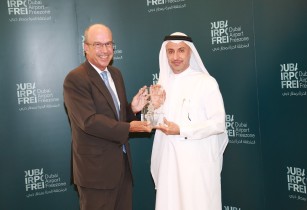 Spanish Ambassador commended DAFZA for being reputed as one of the fastest growing and most competitive free zones in the world. (Image Source: DAFZA)
A high-level Spanish delegation headed by the ambassador of Spain to the UAE, Jos? Eugenio Salarich met with DAFZA director general Mohammad Al Zarouni recently.
According to a statement released by DAFZA, the ambassador commended DAFZA for providing a pioneering global model on effective free zone management. At the meeting, Mohammed Al Zarooni stressed on the role of free zones in revitalizing global investments and strengthening international trade to achieve a more diversified, stable and sustainable global economy.
Al Zarooni said, ?DAFZA has become a main player on the global investment map, which motivates us to continue moving forward in our efforts to establish a strong strategic presence regionally and globally. DAFZA represents an attractive environment for the Spanish business community to direct its investments towards the UAE market that is full of tremendous growth opportunities in conjunction with the ongoing preparations to host Expo Dubai 2020.?
Al Zarooni also said that DAFZA is keen on transferring its leading experience as one of the most advanced free zones in the world and contribute to achieving the goals of ?Dubai Plan 2021,? which is centred on making the emirate a global economic hub and one of the most important business centres in the world.
The Spanish Ambassador Salarich said that DAFZA has exceptional global experience in the field of free zones and emphasized the importance of benefiting from its success story.
He said, ?Spain embraces many free zones, so we are confident that our meeting with DAFZA officials will open broad prospects for the development of a solid foundation for us to promote the exchange of experiences and the transfer of knowledge relevant to the management of free zones.?