Dubai Air Navigation Services (DANS) will invest US$0.2mn to upgrade its TOSIM tower simulator located at Dubai World Central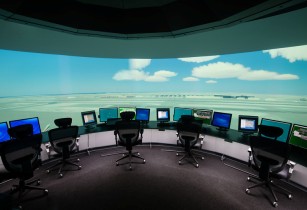 The TOSIM tower simulator is equipped with seven controller working positions. (Image source: DANS)
The company said in a statement that it has developed the TOSIM tower simulator at a cost of US$5.5mn and claims it to be the world?s largest tower simulator.
The TOSIM tower simulator helps to manage movements of incoming and outgoing air traffic. It is also responsible for issuing information and instructions to pilots in order to prevent collision between aircraft.
Greg Pile, head of operational technology at DANS, said, "Dubai needs an efficient air traffic management system. UAE?s flight information region (FIR) will record 1.13mn flight movements by 2020 and 1.62mn aircraft movements by 2030. Dubai accounts for almost 80 per cent of the UAE?s air traffic."
DANS said that the TOSIM tower simulator will be upgraded with air traffic controller tools like ground movement radar display, airfield lighting and electronic flight progress strips (EFPS).