Emirates will be operating a one-off A380 service to Clark International Airport on 19 August 2020, marking the first commercial flight, utilising an A380 aircraft, to operate to Clark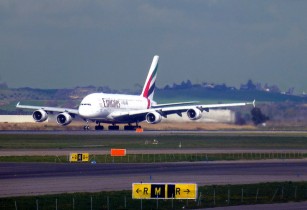 Emirates is gradually expanding its passenger services to 74 cities in August. (Image source: Pom'/Flickr)
The special flight will help to meet the demand for flights to and from the Philippines, especially serving passengers from the metro Manila and the surrounding Luzon areas and beyond.
The Emirates A380 service will operate as EK 2520 and EK 338, departing Dubai at 0240hrs and arriving at Clark at 1530hrs. The flight will depart Clark at 1820hrs, arriving in Dubai at 2245hrs on the same day.
Orhan Abbas, senior vice-president, commercial pperations ? Far East, Emirates, said, ?We resumed scheduled passenger services to Clark on 1 August with six weekly flights and have since been witnessing tremendous demand from customers in the UAE and other cities within our network to travel to the Philippines. In addition to marking a milestone and making its debut to Clark, the highly-popular Emirates A380 aircraft will accommodate more travellers on the flight, while allowing them to experience its unique features and safety protocols we have put in place to protect our customers and crew.?
With safety as a priority, Emirates is gradually expanding its passenger services to 74 cities in August, allowing travellers to connect safely and conveniently to the Americas, Europe, Africa, Middle East, and Asia Pacific via Dubai. Customers from Emirates' network can stop over or travel to Dubai as the city has re-opened for international business and leisure visitors. COVID-19 PCR tests are mandatory for all inbound and transit passengers arriving to Dubai (and the UAE), including the UAE citizens, residents and tourists, irrespective of the country they are coming from.