Dubai's flagship airline Emirates will issue bonds early next year to help raise US$4.5bn for 21 new plane deliveries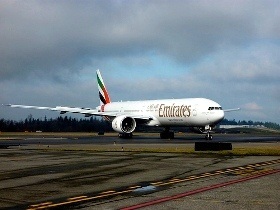 Emirates is expected to issue bonds in early next year to help raise US$4.5bn for 21 new plane deliveries in the financial year starting April 2014. (Image Source: Gordon Werner/Flickr)
According to a Reuters news report, Emirates senior vice president for corporate treasury Brian Jeffery said, ?An Islamic or conventional bond issue might happen as early as January or February next year if market conditions are feasible. We have pretty much the same strategy for the next financial year as we did for 2013.?
Deliveries of the aircraft are set to happen during the next financial year (commencing in April 2014).
The airline has to raise US$22bn in the next four years to finance further aircraft deliveries.
Reports emerged earlier this year that Emirates has been diversifying its funding to expand its fleet to compete with regional peers like Etihad Airways and Qatar Airways.
Emirates will also look at various financing options to raise the money it needs, including bond issues, operating leases, US export credit facilities and financing leases, according to Jeffrey.
Any bond sale is likely to take place after the airline reports its half-year results in November.
Jeffery said that financing for aircraft deliveries in the current financial year is almost complete, with the airline securing funds for 21 of 25 aircraft deliveries. Emirates has sold two bonds this year - a US$750mn bond in January 2013 and a US$1bn sukuk in March 2013.
According to airline officials, Emirates has witnessed rapid growth as passenger traffic at its home base in Dubai surged on the back of an economic recovery. It is estimated that over 32mn passengers passed through Dubai International Airport during the first six months of 2013, rising 17 per cent from a year ago.
READ MORE...
Emirates plans new aircraft lease deal