On 19 December, Dell EMC announced that Gulf Air, the national carrier of the Kingdom of Bahrain, selected Dell EMC's data domain and data protection suite solutions to create a scalable protection and availability foundation to support rapid data growth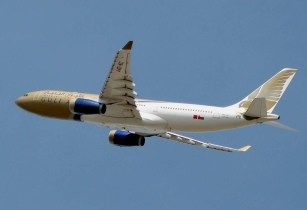 Gulf Air to drive business growth with Dell EMC products. (Image source: Arpingstone/Commons)
The Kingdom of Bahrain's national carrier Gulf Air has chosen Dell EMC and its market-leading data domain and data protection suite solutions to drive rapid data growth. In additions, Gulf Air is aiming to leverage backup and recovery capabilities that are offered with Dell EMC products to help meet its data accessibility requirement.
Serving 40 cities in 23 countries across three continents, Gulf Air is driven by a substantial volume of user-generated data. This is anticipated to grow by an additional 12 per cent in the next 18 months. In order to deal with this rise and the demands from the modern air passenger, efficient backup and recovery is key to meeting these demands.
For this reason, Gulf Air decided to deploy the highly scalable Dell EMC data protection solution to power the IT transformation of its existing storage infrastructure, reduce its costs, and future-proof its advanced efficiencies and safeguard critical data. Dell EMC also stated that this will also facilitate business continuity and growth.
Dell EMC have been supported by Gulf Air since 2009, and this new venture will enable the carrier to protect its most critical information assets and take a step forward in data-driven passenger satisfaction, without the additional costs and complexities.